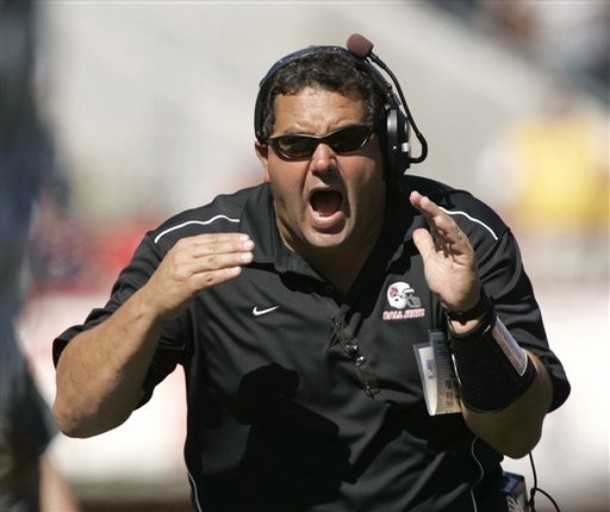 Ball State University, thanks to its football team, is flying high. The school has received more television exposure in the last 60 days than it has gotten in the last decade as its football team rattled off 12 straight victories and ended up 12-1. Last night, BSU football Coach Brady Hoke was featured on The David Letterman Show, which airs nightly on CBS. But the team has been in the spotlight longer than that.
The Ball State victory over Central Michigan Nov. 19 televised live on ESPN2 ranks as the most viewed and highest rated college football game ever for a Tuesday or Wednesday night on the network. The 1.6 rating means the game was watched in more than 1.6 million homes nationwide. The game also ranks as the Mid-American Conference's most viewed regular season college football game ever on ESPN or ESPN2.
Earlier this year, the Sept. 5 (Friday night) ESPN televised game between Ball State and Navy was viewed in 1.2 million homes, making it the third most watched game involving a Mac team in the last four seasons. Due to the MAC contract with ESPN, and the Cardinals' stellar season, Ball State was on national television more than most Big Ten teams. Average attendance for BSU's six home games is up this year, near 20,000 per six home games.
Ball State Athletic Director Tom Collins is quick to point out the football team's success has benefitted the school far beyond athletics. "We used the weekend of the Navy game to publicly kick-off our Ball State Bold Campaign," Collins said.
The $200 million capital campaign will go for almost entirely academic uses, including funding scholarships, endowed chairs and professorships among other things.
"To have an alum like David Letterman talk about you every week doesn't hurt, and we've used the attention to put the spotlight on the larger university," said Collins, who came to BSU from Arizona State three years ago.
BSU officials are already drawing up a game plan to capitalize on this year's success. Collins said BSU will launch a more aggressive marketing campaign for next season targeting not only all of Delaware County, but the Indianapolis metro area and Ft. Wayne as well.
 Maintaining momentum is one thing, keeping Hoke, who has also been mentioned for at least two job openings, is another. "They'll have to be creative to get him as much money and autonomy as possible," said Milt Thompson, president of locally based Grand Slam Cos. "Brady Hoke right now is the face of the program, so they need to do what they can to keep him."
Please enable JavaScript to view this content.