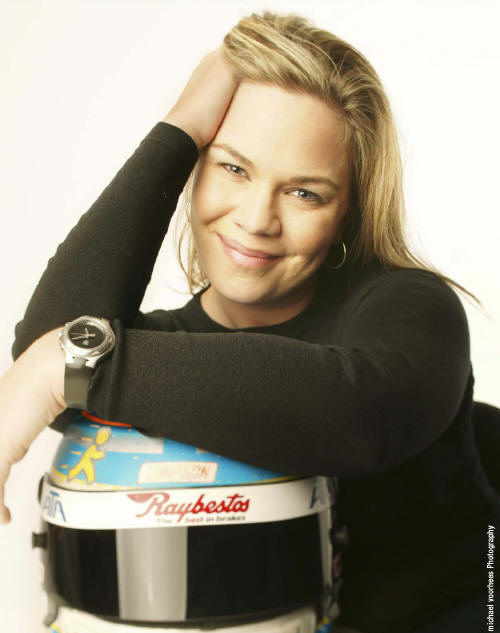 Indy Racing League team owner and driver Sarah Fisher will step away from her office at her race shop to guest co-host the Smiley Morning Radio Show on WZPL-FM 99.5 along with Dave Smiley tomorrow. Fisher takes over hosting duties for Smiley's co-host KJ and will report the news along with the Hollywood Dirt report with the help of EXTRA TV's Carlos Diaz. The radio studio has become Fisher's third office after her race car and race shop. This is the fourth time Fisher has guest co-hosted the show. Fisher has also delivered television news for local Indianapolis NBC affiliate WTHR and counted down national music for VH1's Top 20 Countdown.
To call-in to the show from 6 a.m. to 10 a.m., you can reach Smiley and Fisher at (317) 228-1099 or toll-free at (877) 385-1099.
Tomorrow Fisher kicks off the last day of her Sarah Fisher Racing "12 Days of Christmas Food Drive" benefiting the St. Vincent DePaul Food Pantry. Donations are still being accepted at Sarah Fisher Racing, O'Gara's Irish Pub and Lamping Cleaners until 6 p.m.
All Fisher's outreach efforts appear to be paying off. Yesterday, SFR marketing chief Klint Briney told me the team is closing in on finalizing several sponsorship deals that will put Fisher on the track for at least all the IRL's oval races. A future move to a bigger shop is also a possibility. "Despite the economy," Briney said, "things are going really well for us right now."
Please enable JavaScript to view this content.