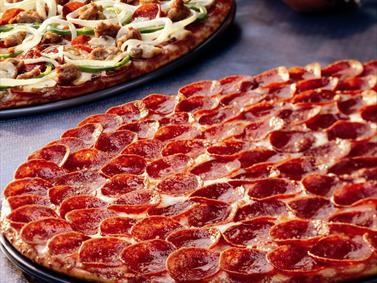 The Indiana Pacers are climbing the NBA attendance ladder—at a surprisingly brisk rate. With deals like the one the team unveiled this week, it's no wonder. The team is now offering $3 tickets. That's about as cheap as it gets for an NBA game—without actually giving tickets away.
The Pacers latest promotion, the Pizza Pack Deal delivered by Donatos, is an offer for two balcony tickets for 10 games for $60. Plus you get a free medium one-topping Donatos pizza. The games included in the package aren't blockbusters, but there are some solid opponents in the mix including Detroit, Atlanta and Miami. Shoot, the pizza alone is worth $10. So technically, you're getting tickets for $2.50 each. You can't get into a junior high game for that. The deal also offers two club-level tickets for the same 10 games running from Dec. 30 through April 8 for $500. That's $25 per ticket. With that deal, you get a large pizza.
All teams in the NBA are racheting up promotions during this skinny economy, but no team has been more aggressive at filling their arena than the Pacers. And the league's official attendance figures show the efforts are paying off. Through 10 home games, the Pacers are averaging 14,483 per game. While the Pacers rank only 25th in the 30-team league, well behind league-leading Detroit at 22,076 per game, they're well ahead of last year's 12,221 per-game average.
And more impressive, the Pacers have boosted their average from 13,595 per game after seven home games to its current average. That's a pretty strong gain in three games. In that short stretch, the Pacers have climbed past Minnesota and put some distance between them and the other attendance bottom feeders.
Yes, there's still the question of devaluing the price of tickets long-term and decreasing revenue due to all the sub-prime ticket sales. Still, you can't fault the Pacers for standing pat and hoping things will get better.
Please enable JavaScript to view this content.