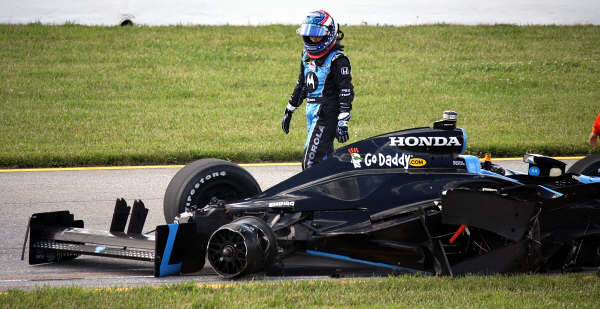 If you're an open-wheel racing fan, should you be concerned that Detroit cancelled its 2009 Indy Racing League race, reducing the IRL schedule to 17 races? You bet.
Sure, Detroit—with all the tumult surrounding the Big 3—is among the hardest hit U.S. markets as the economy is bottoming out. But it appears that reports that there are no layoffs in the IRL and that all is well in the land of open-wheel were a bit premature.
Series and Speedway sources today told IBJ today that both the IRL and IMS are looking to make staff cuts. And these will go much deeper than the 15 people who lost their jobs in the Brickyard Crossing Inn closure. The IMS also has instituted a hiring freeze.
Series sources are also chirping that teams—including Vision Racing—are looking at tightening their belts and may be laying staffers off before year's end. The belt tightening and even a few staff cuts doesn't make me necessarily think the sky is falling.
But here's what does worry me. An economist told me in August that we'd see real serious fallout by year's end, and that he wouldn't be surprised if at least one professional league folded. I scoffed. Then this week, the Arena Football League folded its tent. No, the AFL is no NFL, but it had the likes of Jon Bon Jovi, John Elway and Ron Jaworski behind it, and it had two decades of history to lean on. AFL officials said the league could return. Few sports business experts think that it will. That same economist told me once the first shoe dropped, others would follow.
The NFL's move to eliminate 150 jobs—14 percent of its work force—over the next 60 days is a stark reminder that no sport, even the most popular U.S. pastime, is immune to the slowdown.
It's true the IRL had only been in Detroit since 2007. Still last year, race officials said more than 100,000 fans attended the weekend of events including the race. The race had 69 corporate sponsors this year, up from 59  in 2007. Roger Penske poured $7 million into the Detroit facility to ready it for the IRL race held each September. According to a joint study conducted this year by the event and the Detroit Metro Convention and Visitors Bureau, the Grand Prix generated over $55.2 million in economic impact for metropolitan Detroit in 2008. I'd say it's possible that more than the first shoe has dropped.
Please enable JavaScript to view this content.