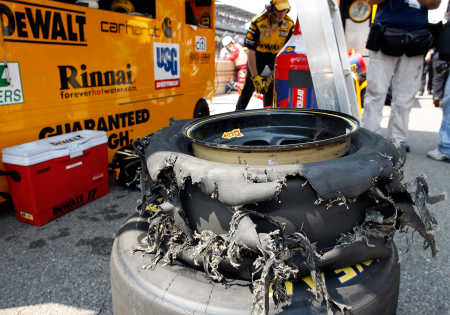 Troubles this year for the Indy Racing League—and the Indianapolis Motor Speedway—that led to layoffs last Friday, started with a NASCAR event.
"We started seeing a downturn in revenue with the Allstate 400," said IMS and IRL spokesman Fred Nation. "Ticket renewals for that race are way off."
The beginning of a deep economic swoon coupled with racers' tire troubles apparently turned NASCAR fans away from renewing tickets for the Indianapolis race in droves. Nation declined to detail the ticket renewal downturn, but said that was part of what led to Friday's layoffs. "We have completed what we believe is needed to deal with our competitive situation," Nation said. "Overall, with the trends in ticket sales and sponsorships, we felt it was time to make a move."
Sports marketers said race fans still haven't forgotten about the 2005 Formula One Michelin tire fiasco, and that memory coupled with tire problems at last year's NASCAR race had a cumulative effect. Tire problems forced NASCAR to throw a competition caution every nine laps of green flag racing to try to prevent blowouts at this year's Allstate 400.
So powerful is the connection between NASCAR and the IRL that a growing number of motorsports insiders believe the open-wheel series that has toppled CART could not have made it without the good ole' boys of the stock car circuit.
Annual revenue from the NASCAR event is estimated by various industry sources to be more than $35 million. With far less overhead than hosting the Indianapolis 500, much of that money falls straight to the bottom line and has been used to bolster the IRL.
Nation declined to say exactly how many people were let go, but said there were layoffs across the IRL, IMS and IMS Productions. "The percentage is more or less—probably a little less—than what you've seen with what other companies are doing," Nation said. "All of those companies too are under a hiring freeze."
The IRL currently has 70 employees and IMS has 300. The National Football League recently laid off 14 percent of its staff. Using the NFL as a guideline would mean about 50 people at the IRL and IMS lost their jobs.
Amid reports that various IRL teams began laying people off last week and multi-car teams may be paring down, there's concern too that car count may be down next year. "It won't be 26 like it was last season, but we still expect car count to be in the 20s," Nation said.
Please enable JavaScript to view this content.