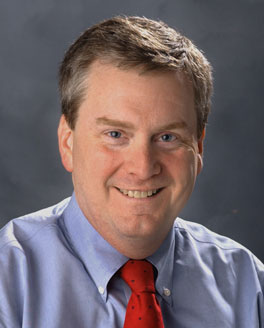 Former Indianapolis Star editor Tim Franklin, 48, yesterday announced he is leaving his post as editor of the Baltimore Sun to head the new IU sports journalism center. Franklin was hired as the Star's executive editor and vice president in late 1999. Franklin, an IU graduate, resigned in December 2000—shortly after Gannett Co. took over ownership—to take a similar job at The Orlando Sentinel. Franklin, who starts at IU Jan. 12, answered a few questions for the IBJ today while sweating the arrival of his flight into icy Indianapolis late tonight.
IBJ: How did this job offer come about?

Franklin: I've been talking to [IU Journalism dean] Brad Hamm on and off for two years. Things heated up again around Thanksgiving as [IU] seriously started to consider launching a sports journalism center. The idea of starting this from scratch at my alma mater was something I couldn't pass up.
IBJ: Part of your position involves an endowed chair, who pays for that?

Franklin: It's the Louis A. Weil Chair, and I'll split time between Indianapolis and Bloomington. It's endowed with private funds.
IBJ: Where will you live?

Franklin: I have kids in school, so I'll be commuting from Baltimore for a while, then I'll get it worked out if I'll be in Indianapolis or Bloomington.
IBJ: What's your goal at IU?

Franklin: I want to help make the Indiana University School of Journalism the preeminent school of journalism in the country. It's a school on the move, and this is a great opportunity to be a part of that.
IBJ: What's your background in sports journalism?

Franklin: In high school, I was a sports reporter for the Mooresville Times. From 1995 to 1997, I was the sports editor of the Chicago Tribune. Those were some of the most fun times I've had in 32 years in journalism. This past year, I was part of a group that negotiated with Major League Baseball for media credentialing.
IBJ: Why a sports journalism center at IU?

Franklin: Indianapolis bills itself as the amateur sports capital of the world, and with the NCAA headquarters there, its professional sports franchises and auto races, it's the ideal place. We want to build on those assets to create a renowned center where sports journalists can come for education, training and re-training.
IBJ: Will IU's sports journalism center include broadcast as well as print?

Franklin: The goal is to bring together print, Web and broadcast in all formats in one place. Sports is one of the areas where there's been true convergence, and we want to build on that.
IBJ: What your assessment of the state of sports journalism in central Indiana right now?

Franklin: I don't know that I can fairly answer that question since I've been gone so long.
IBJ: How is the industry changing?

Franklin: It's not the winds of change, it's a tsunami. It's a remarkable transformation, and it's great for the consumers because you can get news in ways you never could before. But it's had a dramatic effect on traditional media and presented new economic challenges for all of us.
Please enable JavaScript to view this content.