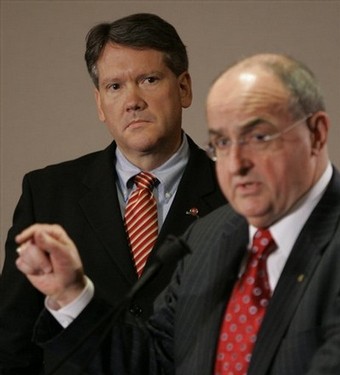 Fred Glass, who officially took over as Indiana's athletic director Jan. 2, hasn't taken long to become ensconced in academia. Even before Glass filled the office vacated by Rick Greenspan, he sat down with Kelley School of Business Dean Dan Smith to talk about using the school's marketing expertise to help polish the athletic department's image. Smith, no doubt, also will try to help devise a plan to sell more football tickets.
Last month, Glass also sat down with Pat Steele, IU's dean of University Libraries, for what Glass thought was going to be a "courtesy meeting." Instead, Glass came away with myriad ideas about how the athletic department can better use the academic services the library offers. Maybe there was a very smart reason former IU basketball coach Bob Knight raised piles of cash and gave so much support to the university's libraries all those years he was in Bloomington.
Glass this week also has been busy setting up office hours on campus (and outside the hallowed halls of Assembly Hall) to meet with IU students with questions, concerns or suggestions. It appears to be an important departure from Greenspan's inside the ivory tower approach.
Glass has already taken a road trip with the men's basketball team (last weekend at Iowa), and plans to do so with all the school's teams in the next year. Glass has also sat down with NCAA and Big Ten officials to ask about best practices in marketing, communications and other areas-including yes, compliance enforcement.
Please enable JavaScript to view this content.