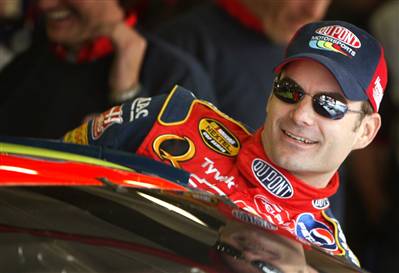 Locally based race track designer Paxton Waters' engine is burning white hot despite the freezing temperatures outside. While the race season is dormant, Waters' business is pedal to the metal. "It doesn't matter what time of year it is," Waters said. "I'm usually busy year-round."
Waters flies to Ontario, Canada today to begin work on a project there with a group including NASCAR driver Jeff Gordon. The project, just a few miles from Buffalo, includes a one-mile oval and 2.5-mile road course. "The track alone is a $110 million project," Waters said. "With retail and commercial elements, it's a $250 million project."
While Waters may be relatively unknown to most auto racing fans, he's a well known and highly appreciated commodity among track builders and operators worldwide. Projects' on Waters' resumé include the Las Vegas Motor Speedway, California Speedway, Iowa Speedway and Pikes Peak International Raceway.
So when Gordon got involved in the Ontario project, the two quickly came together with other project principals. "Jeff is to this project what Rusty Wallace is to the track in Iowa," Waters said. The Ontario project, Waters added, is on track to be done in early 2011.
The Ontario track could bring the highest levels of open-wheel and stock car racing to another Canadian destination. "The entire project is set on 650 acres," Waters said. "This will be a major oval and road course speedway."
The Ontario track is not Waters' only project. He's working on a big-time track in Angola, Africa; and just finished a project in Brazil. Waters also recently began working on a major project that is sure to turn heads in central Indiana. For more on that, check out this Saturday's Indianapolis Business Journal. To learn more about Waters' work, check out paxtonwatersarchitecture.com.
Please enable JavaScript to view this content.