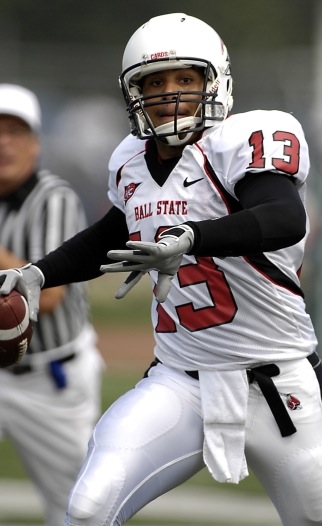 Five weeks ago, Ball State quarterback Nate Davis' stock was rising faster than Mel Kiper Jr.'s hairdo. Two games (both ugly losses), and heaven knows how many QB fumbles later (actually, it was eight), it looks like Davis might be smart to stay another season in Muncie.
Davis will base his decision on the feedback he gets from the NFL's draft advisory committee. The wrong decision could cost Davis millions. In the 2008 NFL draft, Baltimore took quarterback Joe Flacco 18th in the first round. He received a five-year, $30 million contract, with $8.75 million guaranteed. Green Bay took quarterback Brian Brohm with the 25th pick in the second round. He signed a 4-year, $2.6 million contract that included a $900,000 signing bonus and the first-year base salary of $295,000 guaranteed. It's also worth mentioning that Davis' departure would likely cost BSU plenty in ticket and other ancillary revenue, nevermind the bowl appearance money he could bring them.
The NFL's evaluation on Davis' draft status is expected early next week. Considering that Davis was taken apart in successive games by a Buffalo team that has the 94th ranked defense in the nation and Tulsa, which has the nation's 74th best defense, it appears the verdict is already in.
Please enable JavaScript to view this content.