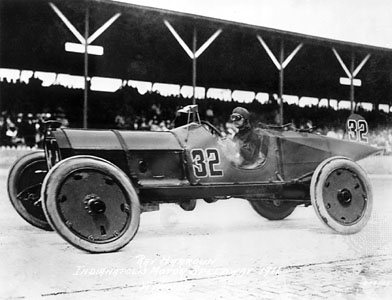 A group planning to make a movie about the very first Indianapolis 500, is eyeballing more than 200 acres in Whitestown to build a replica Indianapolis Motor Speedway.
Justin Escue, a locally based movie producer, is working to secure financing for the film. He hopes to start constructing the replica track in the spring and begin filming in the fall. Escue's group also has a deal in the works for a Tennessee company to make 40 replica Indy cars circa 1911. I know, this sounds crazy. But Escue already secured the services of Angelo Pizzo, famed for his work on the movies "Hoosiers" and "Rudy." Pizzo told IBJ last week he recently finished the screenplay, and thinks the movie has a good chance of getting made.
Escue also was smart enough to procure the services of local track builder Paxton Waters, who has worked on many of the tracks that NASCAR and the Indy Racing League utilize. Waters said he is already studying historical photos and other material in preparation for the project.
Waters said most of the structures will be made of wood, just as they were in 1911, and shouldn't take too long to construct. Escue added that the structures could be deconstructed after shooting is complete and set up at some other more permanent location, as a memorial to the old days at the track—and of course, as a tourist attraction.
Escue hopes to release the movie in May, 2011, in conjunction with the race's centennial. To read the IBJ story on the making of the movie, click here.
Please enable JavaScript to view this content.