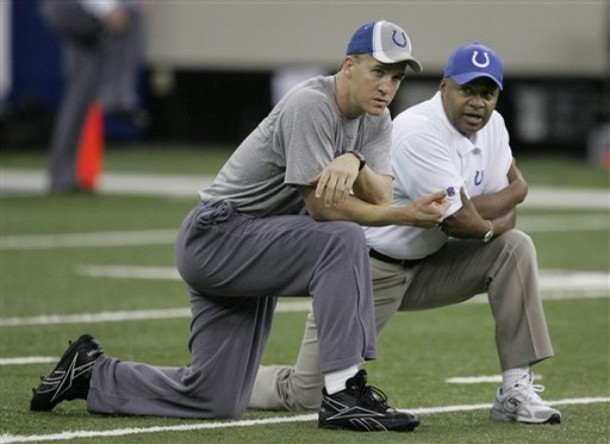 Now that Indianapolis Colts coach Tony Dungy's retirement is upon us (it's expected at a 5 p.m. press conference today), it's time to contemplate this one very important question; Who is Jim Caldwell? We all know by now that Caldwell last January was named the team's associate head coach to eventually replace Dungy. But beyond that, Caldwell, like many Colts assistant coaches, has kept a low profile. Caldwell didn't even spend much time on the sideline during games this year, opting instead for a sky box perch.
So I asked Dungy at an IBJ Power Breakfast in October what he could tell me about Caldwell. Dungy said Caldwell has been key in quarterback Peyton Manning's continued development. Caldwell also has been critical in working with the Colts' receiving corps, Dungy said, keeping the team's air attack on high octane. That's strange, given that Caldwell was a four-year starting defensive-back for the University of Iowa. Those years eyeballing quarterbacks and staying Velcro-close to receivers, Dungy told me, has given Caldwell a keen insight into how an air attack works—and what causes it to break down.
Caldwell, who has been an assistant with Indianapolis for seven seasons, started his coaching career in the college ranks. He spent seven seasons under Joe Paterno at Penn State, where he was credited for making Kerry Collins NFL-ready. Caldwell has shown he can work with players—even when they're not destined for the Hall of Fame. As a Tampa Bay assistant, Caldwell was credited for revving the QB-receiver tandem of Brad Johnson and Keyshawn Johnson. Keyshawn posted a franchise-best 106 receptions and 1,266 yards for the season under Caldwell in 2001, and Brad Johnson had a club-best 340 completions. Dungy said he expects the transition to Caldwell to be super-smooth, although the latest news about Marvin Harrison isn't likely to help.
Caldwell turns 54 Friday. But there won't be much time to celebrate. His profile is about to increase. And so is his accountability.
Please enable JavaScript to view this content.