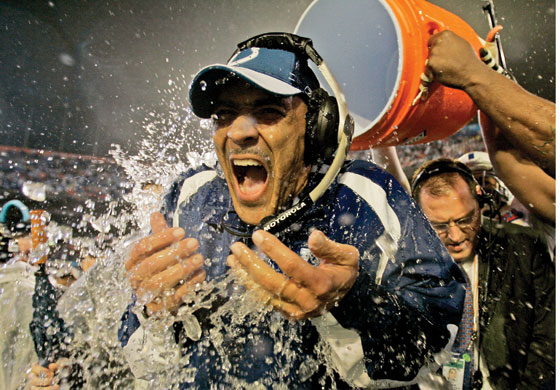 Maybe it was the team's experience with Eric Dickerson. Maybe it was a string of flame-out first round draft picks shortly before the days of Peyton Manning. Heck, who knows, maybe it was the Bert Jones era, or the way Hall of Famer Johnny Unitas turned on the franchise after it left Baltimore. But somewhere along the line, Indianapolis Colts owner Jim Irsay and his marketing staff adopted a theory of never pegging their marketing campaign on any one player or coach, no matter how bright the shining star.
"We emphasize the brand of the horseshoe," Irsay told me in 2006. "We want that to embody everything we stand for." Former Colts marketing guru Ray Compton emphasized the same sentiment to me several years before.
That's why retiring Indianapolis Colts Coach Tony Dungy will be missed by fans and players, but his departure won't detract from the team's positive brand image. That image has been carefully smelted and pounded into the hearts of Colts' faithful through a strategy that emphasizes the franchise and its accomplishments—on and off the field. Did Dungy embody that image? Absolutely. But he didn't give birth to it.
Relative to other franchises in the often controversial, high-turnover NFL, the Colts enjoy a reputation for stability, consistency, personal character and a workmanlike approach to winning, says Larry DeGaris, who directs the University of Indianapolis' sports marketing program.
"The Colts' brand is pretty much bulletproof," DeGaris said. "At this point it's been built up to a level where it's not contingent on any one person."
After watching the Indiana Pacers the last 10 years, I'm not sure any brand is bulletproof. I also watched the iron-clad image of the Dallas Cowboys and its fedora-wearing coach Tom Landry go through the wringer when losses mounted and ownership changed in the late 1980s. But Cowboys owner Jerry Jones, fixed all that. Right? Luckily, the Colts won't have the kind of controversy that followed Landry's ugly firing.
DeGaris notes that the Colts handled the transition smoothly, following a logical succession plan and announcing the retirement and the promotion of new Head Coach Jim Caldwell in a single smooth stroke. "This is another thing the organization did right," he said. "They gave a heads-up, named a successor, so really it's not a big deal, is it? There's no search, there's no controversy. It's a tight ship."
To see a video capsule of Dungy's career, click here.
Please enable JavaScript to view this content.