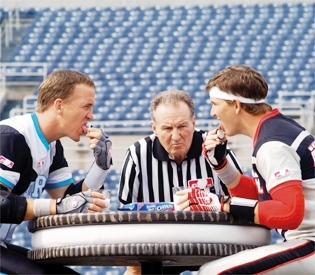 You may not take the Jan. 18 lick-off between Peyton and Eli Manning and Venus and Serena Williams seriously, but you can bet the folks at Kraft, who own the Oreo brand, are.
This is the second year for the Oreo Double Stuff Racing League challenge. The Manning brothers kicked off this ad campaign last year, and the famous tennis-playing sisters joined in August. This month, the campaign is being billed by Kraft as "The Ultimate Sibling Rivalry." Commercials featuring the Manning brothers and Williams sisters have aired with increasing frequency during each round of the NFL playoffs. The two sides trade barbs during the commercials, with Peyton quipping, "It's on like Donkey Kong."
The challenge will play out during the NFC Championship game this Sunday. Unfortunately for Indianapolis Colts and New York Giants fans, neither of the Manning brothers will be competing on the gridiron. But that makes this commercial series and the accompanying Web site no less attractive for Oreo execs. They've reported strong viewer response and record traffic on the Oreo Web site this year. And they've added an interactive component.
This time around, consumers can join the competition to see who can twist, lick and dunk (in a glass of milk) an Oreo cookie faster. They can go online and register for a chance for a trip to Florida, where they'll be coached in the fine art of Oreo licking and dunking by the acknowledged pros. Ten people randomly selected for the trip will also have a shot at competing as part of a "Manning" or "Williams" team for a $10,000 prize to be divvied up among the winning team's members.
This afternoon, check back with The Score to see how much cash Archie Manning—Peyton and Eli's dad—is still raking in from his NFL career each year.
Please enable JavaScript to view this content.