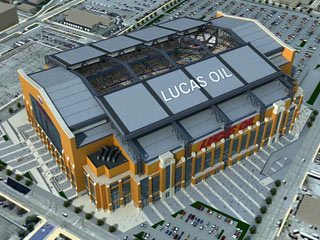 It was partly sunny, and in the mid to high 70s yesterday in Glendale, Ariz. And the roof on the Arizona Cardinals' football stadium was closed for the NFC Championship game against the Philadelphia Eagles. It would seem to be almost ideal weather for opening the roof and letting some fresh air in on fans and players.
But the Arizona Cardinals players and coaches requested it be closed to make it louder inside. The Philadelphia Eagles chimed in that the decision was fine with them, because they'd rather play in air-conditioned comfort than in the Arizona sun. Huh? Earlier this year, I wrote a post on this site that some Indianapolis Colts fans complained that it was too hot inside Lucas Oil Stadium when the roof was opened and the sun streamed in.
Those fans were written off by some as being soft. Apparently Philadelphia Eagles players might also fall in that category.
Already, there's been complaints that Lucas Oil Stadium isn't as loud as the now demolished RCA Dome. This weekend's game makes me wonder how long before the Colts start making the same stupefying decisions the Cards made this weekend, in the name of getting a bigger home field advantage. I have no problem with trying to maximize home field advantage, but I bet I won't be the first taxpayer to wonder why on earth we even have a retractable roof. It's certainly not for conventions. I seriously doubt it will be open for the Super Bowl. I wonder how long until that roof is closed permanently.
And while it's easier to guard Larry Fitzgerald one-on-one than it is to pinpoint how much more the retractable roof cost than a standard roof, you can bet it cost taxpayers an easy eight-figure sum. The roof and structural steel on the building cost about $80 million of the $720 million project, and I'm guessing as would be the case for anything of this size with so many moving parts, there will be significant added maintenance expenses.
So again I ask, why is LOS a convertible? Maybe you have the answer.
Please enable JavaScript to view this content.