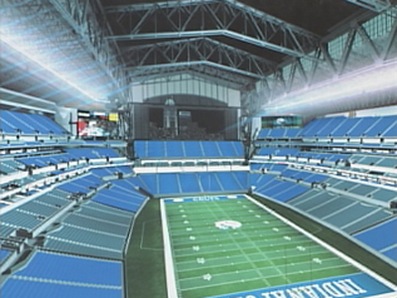 Lucas Oil Stadium's retractable roof continues to be the center of much debate. How much use the convertible ceiling at LOS will get remains to be seen. But after a few phone calls this week, I did get a little more information on the cost of the retractable roof.
It's difficult to say just how much the retractable roof cost, because the steel used in the roof also supports other parts of the building and includes things like stairs and catwalks near the ceiling, said Indiana Stadium and Convention Building Authority Director John Klipsch.
Klipsch said trying to figure out the exact cost of the roof is like trying to figure out how much of the money you spend on a pair of shoes goes toward supporting the weight of your shoulder. Good one. Point taken. But there are some interesting facts that shed a little light on the cost.
The steel that went into making the roof and supports the structure costs $83.2 million. The parts and labor for the moving components of the roof and retractable window on the stadium's north end cost $15.6 million. The annual maintenance budget (labor and parts) for the roof is $270,000, with another $30,000 allocated for the window. So routine maintenance for the roof and window for the next decade will be at least $3 million. Minnesota-based Uni-Systems Inc. has the maintenance contract for the retractable roof and window.
By the time the project was put in the hands state officials, the city's Capital Improvements Board and Indianapolis Colts already determined that a retractable roof for the stadium was a must. "We never did a study on what the costs of a retractable roof would be compared to a standard roof," Klipsch said. "If that was ever discussed, it was done before we got involved."
Please enable JavaScript to view this content.