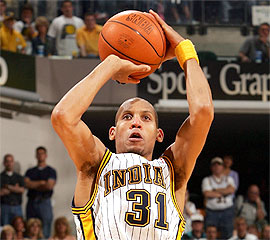 Boston Celtics Coach Glenn "Doc" Rivers clearly still has former Indiana Pacer Reggie Miller on speed dial. In a surprising revelation, Rivers told radio talk show host Dan Patrick yesterday that he called Miller about playing for the NBA champion Celtics—this year. Rivers told Patrick he first approached Miller in the off-season before the 2007-08 season, the one in which the Celtics won the title. But Rivers told Patrick he also called Miller, 43, shortly before this season opened to gauge his interest in returning. Miller last played for the Pacers in the 2004-05 season.
"He told me, 'there are only so many players who can do what Reggie Miller does,'" Patrick said. "So I asked him, are you going to call him next year?" Rivers didn't discount the possibility of inquiring about Miller's services for the 2009-10 season.
Apparently Boston isn't the only team interested in the Pacers' all-time leading scorer. Miller said Cleveland also made inquiries this off-season about his availability. Miller, who works as an NBA commentator for TNT, told Patrick at this point he has no plans to return.
"I would never jump on a bandwagon just to win a championship," Miller told Patrick. "I like to pull my own weight."
Please enable JavaScript to view this content.