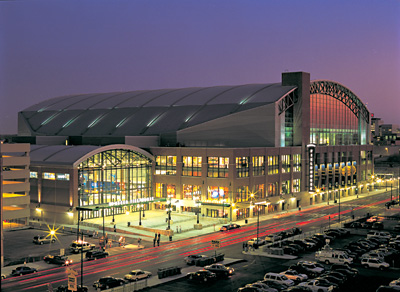 It's official. The Indiana Pacers are hemorrhaging financially—and looking for city aid. Though franchise officials have no interest in discussing it, the situation has become so bad, the team is now seeking help from the city's Capital Improvements Board. That aid will likely come in the form of a subsidy or a renegotiated lease—or both. It's not entirely clear, and aside from a statement, which you can read in an IBJ story published this afternoon, Pacers officials are shedding little light on the situation.
This much is clear. Even though the CIB is crumbling beneath its own budgetary problems that include a huge operating deficit at Lucas Oil Stadium, board members have agreed to absorb $15 million in Conseco Fieldhouse expenses in 2010. The CIB hopes to pull themselves out of the red by increased operations and revenue at Lucas Oil Stadium.
The Colts' and Pacers' long-term future might both depend on how well LOS does. Here's hoping the $70 million retractable roof brings in the business it is supposed to. CIB officials said they believed the Conseco Fieldhouse move is needed to save the Pacers—presumably from moving, or I guess going out of business. Meanwhile, the CIB itself is facing an annual budget in excess of $45 million in the not too distant future.
Please enable JavaScript to view this content.