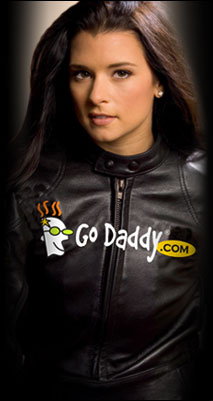 How successful were the GoDaddy ads aired on TV during the Super Bowl? That depends on who you ask. Some panned, while other praised the two ads featuring Indy Racing League driver Danica Patrick.
A USA Today pole of viewers rated GoDaddy's ads No. 41 and No. 45 out of 50. The beef about USA Today's Ad Meter among advertising executives is that it only measures how well viewers like the ad—and not consumer brand recall or any other sort of return on investment.
GoDaddy officials said they are getting plenty of return on investment. According to company officials, the two 30-second spots—which cost $3 million each in air time—are already paying heavy dividends. According to Akamai Technologies, one of the leading Internet traffic trackers, GoDaddy had the biggest increase in Web traffic of any of the Super Bowl advertisers. That probably has something to do with GoDaddy's attempt at luring viewers to their Web site with the promise of an "unrated" addition to the company's racy TV commercials. And Web surfers didn't just stop by GoDaddy-an Internet domain name registry.
"[Sunday and Monday] broke records with respect to new customer sign ups and total orders," said GoDaddy President and COO Warren Adelman. "It was a great Sunday."
Adelman gives Patrick lots of credit for the successful campaign. "She's enormously popular. She's a dynamic, fun, intelligent spokesperson," he said. "We think she draws a lot of attention to this campaign."
GoDaddy's "Enhanced" commercial, a parody of a congressional hearing starring Patrick, was the most-watched advertisement among TiVo users. The ads were ranked in part by how many times viewers rewound them and watched again. The enhanced spot aired at the game's two minute warning. "We didn't buy that ad time until Friday," Adelman said. "We were just going to run the shower ad, but then another spot came open, so we decided to run both of our ads."
GoDaddy officials won't release total numbers of visitors to its Web site Sunday and Monday until later this week, but Adelman said he expects a strong double-digit percentage increase.
Please enable JavaScript to view this content.