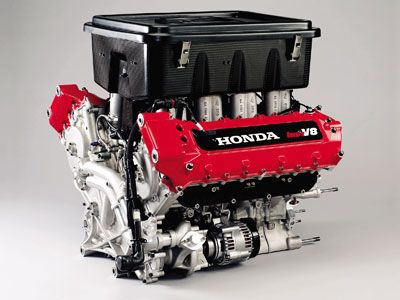 There were some interesting revelations during an Indy Racing League press conference today to discuss the on-going Automotive Manufacturers Roundtables designed to bring about expanded engine manufacturer participation and to help define a new engine formula for the series.
First, the IRL might delay by a year—to 2012—its move to a new engine formula because an earlier change would be difficult for financially strapped teams. Second, despite the rough economy there are still a number of intriguing companies involved in talks to join the fray as engine makers for the open-wheel series. Those companies are: Honda, Audi, Fiat, Porsche and Volkswagen. Representatives from all of those companies today confirmed their interest in joining the series. IRL officials acknowledged that in this current environment, it is unlikely that any American engine maker would join the series. Honda Performance Development President Erik Berkman today stressed that the Japanese car maker very much wants there to be at least one more engine maker in the series in the near future. IRL officials made it clear that no engine maker would be allowed in the series without pledging serious money to help market the series and their involvement in the series.
For gear heads, the new engine formula looks something like this: four-stroke engines, engine capacity not to exceed 2.0 liters, dual overhead cam shaft with four valves per cylinder. Single turbo charger and direct injection systems will be permitted.
When asked about other engine makers (those that don't make and sell passenger cars directly), IRL's Brian Barnhart offered the following response.
"The Cosworths, the Illmors, the AERs are important to us. Even with manufacturer involvement, they can still be involved, and there still could be a place for them in the future. Our manufacturers in the roundtable are still open to some sort of competition with engine companies, but we will just have to see where that goes."
So how many engine makers are IRL officials hoping for?
"We are happy we have five this far down the road in this process," Barnhart said. "We are not going to get five. But, if we get two to join Honda, we would be very happy."
Please enable JavaScript to view this content.