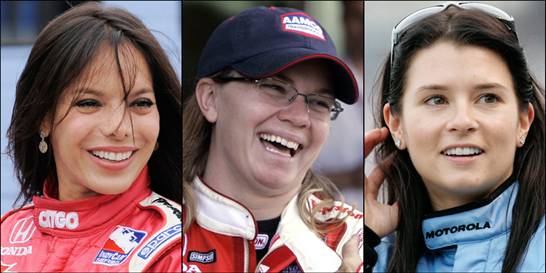 The women of the Indy Racing League continue to burn rubber. Sources close to the Newman Haas Lanigan team said the team is close to signing a deal with Milka Duno (and Robert Doornbos). A big part of the Duno deal, sources said, is her ability to bring her sponsor, Citgo, and an accompanying $5 million.
Danica Patrick, fresh off her Super Bowl GoDaddy ad appearance, announced she has signed with IMG's Alan Zucker and Mark Steinberg. Zucker's clients include NFL quarterbacks Peyton (Indianapolis Colts) and Eli Manning (New York Giants). Word is that Patrick and her father, T.J., became disgruntled with Hollywood-based Endeavor after the open-wheel racer failed to get any more endorsement or sponsorship deals following her victory last season in Japan. Patrick had been with Endeavor for two years.
And then there's Sarah Fisher. She already has a deal with Dollar General that will put her on the track for four races this season. Tomorrow at 3 p.m. at the downtown Marriott, Fisher will announce another sponsor for next season. Fisher's posse wouldn't tip their hat on who the sponsor is other than to say it's a major Indiana-based company. Fisher also will be the keynote speaker Saturday night at the 2009 Society of Women Engineers Region H Conference.
Please enable JavaScript to view this content.