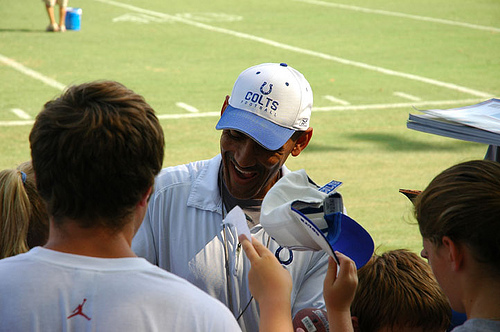 Just about every community within 50 miles of Indianapolis has made one pitch or another to attract the Indianapolis Colts' annual pre-season training camp. The three-week camp brings hundreds of players and coaches and thousands of fans to the city or town, not to mention local, regional and national media following the team. The camp provides a healthy marketing bounce that almost any Indiana burg would be happy to have. Anderson officials said its studies show that each fan coming to training camp spends at least $75 in the host city. Direct visitor spending in the host city is estimated at $1.5 million to $2.5 million.
This week, Anderson made public its plans to wrestle the Colts' camp away from Terre Haute. Anderson Economic Development Director Linda Dawson made no secret about the city's plans to try to lure the camp, but wouldn't divulge what sort of incentive package the city would present Colts brass this month, adding that Anderson didn't want to tip its hand to competing municipalities.
Anderson University too is geared up for the battle. "We have a lot of good friends with the Colts organization," said school spokesman Chris Williams.
Colts Senior Executive Vice President Pete Ward and President Bill Polian declined to comment on where the team's training camp might land. But sources close to the team said Polian is likely to announce his choice by the end of this month. The Colts' camp will begin in late July.
Anderson University hosted the Colts camp for 15 years, until the team left for Terre Haute in 1998. AU has made big upgrades recently, including opening a large wellness center and adding artificial turf similar to that at Lucas Oil Stadium on its football field.
Terre Haute has every intention of trying to retain the Colts camp, but there are signs that competition for the pre-season event might get even more intense. The city of Franklin is amassing land on the east side of the city, and is said to be planning—in conjunction with Franklin College—construction of new athletic facilities, which could include a wellness center and football field. Those facilities will be perfect for growing the school's athletic programs, but also would be more than adequate to catch the Colts' eyes.
Please enable JavaScript to view this content.