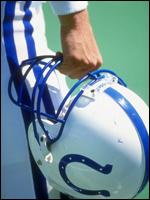 The Indianapolis Colts are moving their training camp from Terre Haute to Anderson. At least according to officials for the city of Anderson and at Anderson University. It's just a matter of working out the logistics, they said. Colts officials declined to comment.
Anderson Mayor Kris Ockomon told the Anderson Herald Bulletin that City Councilman Art Pepelea, who is working on attracting the team back to the city, told him that he is "99 percent sure that they're coming back, but that one-tenth of a percent we have to hang on."
But wait a minute. The folks at Terre Haute said this is not a done deal. Kevin Lanke, Rose Hulman sports information director, told IBJ this morning that officials for the school and city of Terre Haute are still negotiating with the Colts.
"We're still talking, still negotiating with the Colts," Lanke said. "We've been in contact with them this year, just like every other year, and the discussions are still ongoing at this time."
Lanke said he expects a decision by or before April. Anderson officials, however said they are meeting with Colts officials this week to wrap up negotiations to bring the team back to Anderson University after 10 years in Terre Haute.
Please enable JavaScript to view this content.