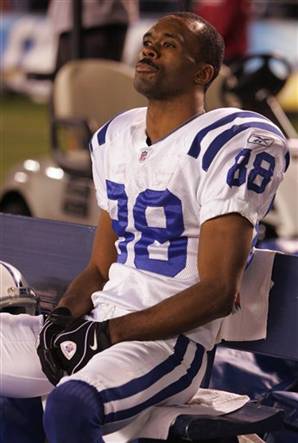 It's difficult to say what is driving Marvin Harrison in his negotiations—or non-negotiations—with the Indianapolis Colts. Greed? Pride? Ego-centrism? Maybe all the above. Maybe none of the above. Harrison certainly isn't saying. Even Harrison's best friend on the team, Dwight Freeney, says he never knows what Harrison is thinking.
It would be interesting to hear what Indianapolis Colts owner Jim Irsay and the all-pro wide receiver say to each other during their meeting this afternoon—a last ditch effort by Irsay to keep Harrison in Indianapolis. Sources within the team say Harrison rarely talks to Colts  coaches, including offensive coordinator Tom Moore. So here's hoping he's on speaking terms with the man who took a chance on him last year, when many other owners never would have afforded him that opportunity.
The math behind the Colts' dilemma is simple. Under his current deal, Harrison will count $13.4 million against the team's $123 million salary cap. The Colts simply can't have someone with Harrison's questionable future eating 11 percent of the salary cap.
It's difficult to conceive that Harrison and his agent, Tom Condon, could truly believe the 36-year old, 13-year veteran will get a better deal with a better team than Harrison will in Indy.
Here's his production over the last five years:

2004: 16 games played, 86 receptions, 1,116 yards, 12.9 avg., 15 TDs

2005: 15 GP, 82 receptions, 1,146 yards, 14 avg., 12 TDs

2006: 16 GP, 95 receptions, 1,366 yards, 14.4 avg., 12 TDs

2007: 5 GP, 20 receptions, 247 yards, 12.4 avg., 1 TD

2008: 15 GP, 60 receptions, 636 yards, 10.6 avg., 5 TDs
There are at least a few NFL insiders who think Harrison has one more big season in him. If that's the case, his release won't sit well with Colts fans wondering why the new stadium they helped pay for couldn't buy them at least one more season of the all-pro's services. If Harrison departs, fans will miss his production—the memories of those clutch grabs, but likely little else. Harrison's quiet reserved nature, often left fans wanting for more. His penchant for sitting on the end of the bench by himself made him look aloof, if not disconnected. Unfortunately, it became easy to overlook Harrison's good deeds. Harrison worked with kids at  Terre Haute's Hyte Center, Police Athletic League and March of Dimes. He also works with several youth organizations in Philly. He never asked for recognition for those works.
Irsay has an affinity for his players that was born in his teen years when he worked as a Colts ball boy. I expect Irsay to address Harrison from his heart. The question is, will any of it hit Harrison between the ears. And if it does, will any of it really matter. In 48 hours—or less, we'll have our answer.
Please enable JavaScript to view this content.