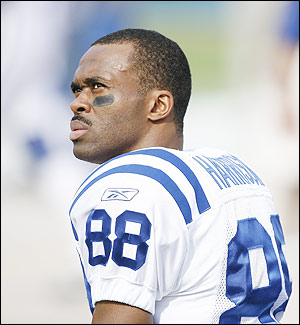 Marvin Harrison's exit from Indianapolis was as elusive as his moves on the field. He slid out of town after meeting with Indianapolis Colts ownership without ever being seen. Colts fans are left to wonder if the introverted wide receiver will ever return—even at the invitation of team owner Jim Irsay.
In announcing Harrison's release from the team yesterday, Irsay rightfully made a big production about his plans to enshrine the all-pro wide receiver in the team's Ring of Honor one day. Irsay wants to give Colts fans the opportunity to show their appreciation for marvelous Marvin—and presumably vice versa. But you really have to wonder if Harrison would accept that invitation. After all, this is a man who once told a Washington Post reporter he'd rather play in an empty stadium. He said he never wanted to be in the spotlight for any reason.
Harrison chose a strange profession to accommodate that desire. But maybe, with his break-neck speed and lightning moves, his profession chose him. In any event, it's difficult to imagine him coming back to be singled out by a roaring crowd. And what would the man who never spoke to reporters, rarely, if ever, acknowledged fans and barely spoke to his own offensive coordinator, say to the crowd.
Two words would probably be enough for the Hoosier throngs who mostly adored his quiet, workman-like nature. But you really have to wonder if the reclusive No. 88 will stop by even long enough to say "thank you," to his fans these last 13 years.
So, here's what Colts fans are left with: 190 games played, 1,102 receptions and 14,580 yards—with a horseshoe emblem on his helmet. And little else.
Then there's this. Harrison is well on his way to earning a master's degree in consumer affairs at Syracuse. He has confided to his family and friends in Philadelphia that he has plans after his playing days are done—to do something truly marvelous. He wants to become a school teacher.
Please enable JavaScript to view this content.