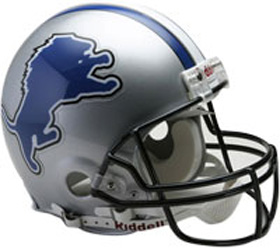 Local merchandiser MainGate Inc. scored its fourth deal with an NFL team in less than a year. And the most recent deal is no small catch. Yesterday, MainGate CEO Dave Moroknek announced a 10-year deal with the Detroit Lions, making the Indianapolis-based company the team's exclusive retail and merchandise company.
While the Lions are the model of ineptitude on the field in recent years, they still have an  eager to be rabid fan base in the Motor City. The team's management appears to be making moves to improve on the field and in the front office. In the short-term, the team's No. 1 draft choice in April should mean a big boost in jersey sales-especially if they land a quarterback.
The partnership which formally begins on April 1, positions MainGate Inc. to operate all merchandise locations at Ford Field, including a year round pro shop, training camp shop, the official  E-commerce store as well as act as the Lions internal merchandise department. Industry sources said it could end up being a solid six-figure annual deal for MainGate.
Last spring, MainGate notched deals to handle merchandise sales for the Indianapolis Colts and St. Louis Rams. For the Colts, MainGate handles sales at Lucas Oil Stadium and Circle Centre Mall stores as well as on-line. In January, MainGate signed up with the Kansas City Chiefs. The Chiefs and Rams are three-year on-line only deals. While there are a handful of merchandisers that have deals with multiple NFL teams, there are precious few in the Midwest, let alone Indiana.
"We desire to be the best, and now we know we have the best when it comes to merchandise partnerships." said Lions President Tom Lewand. "From the first meeting with MainGate, I knew they were different from other merchandise companies."
MainGate's Moroknek attributes his company's NFL success to a proven model in other sports. MainGate, founded in 1963, first made its mark in NHRA drag racing. Now, the firm does business for the Indy Racing League, Danica Patrick, golfer Jack Nicklaus, NCAA, Harley-Davidson, Budweiser King Racing, John Force Racing and many other well-known brands.
Please enable JavaScript to view this content.