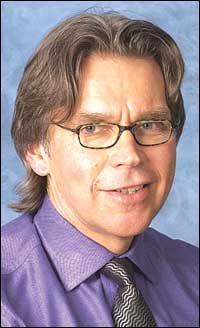 Simon & Schuster has commissioned a book about the first Indianapolis 500. The book publishing company hired former Sports Illustrated executive editor Charles Leerhsen to write the story of the 1911 race, and hopes to have it on book store shelves by the race's centennial.
"The book will deal with the world in general in that era, the rise of the automobile, the birth of the Speedway, and of course the race," Leerhsen, pictured at right, told IBJ.
The Indianapolis Motor Speedway, which is not officially involved in the project, is assisting Leerhsen with research. "We've offered our files and personnel to work with him to the extent he needs it," said Indianapolis Motor Speedway spokesman Fred Nation. "He has already visited our facility one or two times, and I expect he will be back."
Nation is optimistic about the book's impact. "Based on Charles' reputation, and the work he's done before, we think this book should heighten the interest and raise the profile of this race," Nation said.
Last year, Simon & Schuster released Leerhsen's acclaimed book about harness racing titled "Crazy Good: The True Story of Dan Patch, the Most Famous Horse in America." That book is set in the same time period as the inaugural Indy 500.
Leerhsen, a magazine veteran who has also worked stints for Newsweek, People and US Weekly, is in the research and early writing phases of the book. Leerhsen said his book will weave in some present-day information about the Speedway "when it makes sense."
Leerhsen has written books with test pilot Chuck Yeager, successful television executive Brandon Tartikoff and business tycoon Donald Trump.
Please enable JavaScript to view this content.