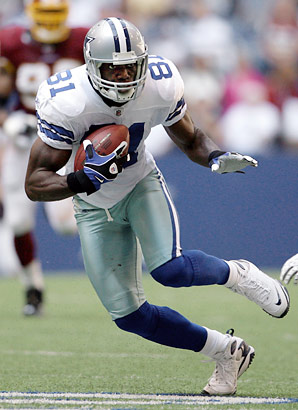 Ok, it will probably never happen. But since the word 'probably' is in the previous sentence, it would be a dereliction of duty not to explore the Indianapolis Colts' possible signing of Terrell Owens. The question is, not if the move will happen, but would the move put the Colts over the top and return them to Super Bowl glory or push them over the edge and make their locker room as dysfunctional as the Dallas Cowboys.
As crazy as the notion of the Colts signing Owens sounds, don't think it hasn't at least crossed owner Jim Irsay's mind. Yes, the Colts are in all kinds of salary cap pain, and yes, they just let wideout Marvin Harrison go because they couldn't afford him. But know this, Irsay wants to win as badly as any NFL owner, and he's not unwilling to pay to make it happen. But that's why he brought in Bill Polian as president—so cooler, and arguably, more enlighten heads would prevail. Polian has long been the voice of reason at the Colts complex, but you have to wonder if he and Irsay might, just might, talk about T.O. at least for a few minutes today. If nothing else, to talk about why they can't, or shouldn't, sign him.
First, though, let's talk about why the Colts should sign him. The obvious: He's a huge talent with three years left in the tank. The clock is ticking on the current Colts' crop. Remember center Jeff Saturday was re-signed for three years. Tic, Tic, Tic … T.O. draws double teams aplenty and that can do wonders for guys like tight end Dallas Clark and fellow receiver Reggie Wayne. The Colts are a throw-first team, and that should sit well with Owens. The extra attention a receiver like T.O. attracts also prohibits opposing defenses from stacking the box, and that opens up the running game. Heaven knows, the Colts' running game needs lots of help.
Then there's Peyton Manning. You have to wonder if the future Hall of Famer is one of two, maybe three, quarterbacks that Owens would listen to. My other bets for quarterbacks that could control the temperamental T.O. are New England's Tom Brady and New Orleans' Drew Brees. But New England's Randy Moss and T.O. get on like oil and water, so scratch the Pats.
Factor in that few teams will be willing to take a chance on T.O., and his price tag may be spiraling faster than Conseco's stock value. The Colts might be able to get him cheaper than it would have cost them to retain Harrison. And you have to believe that Owens, who has burned all the bridges with the last three teams he's played for, might finally be ready to prove to the league and all its fans, that he is a winner. There's nothing like a motivated player.
If Tony Dungy was still the coach, I'd say that bolsters the chances that T.O. makes a good fit here. Dungy would certainly be the yin to Owens' more volatile yang. But with rookie coach Jim Caldwell, signing T.O. is a much bigger gamble.
The ace in the hole for those who say the deal will never happen is that Polian never plays the free agent market. I trump out exhibit A … Adam Vinatieri. While the place kicker and T.O. seem to have little in common, I'd tell you they have one thing very much in common. Both are players who were and are in a position to put the Colts over the top of the NFL heap. Still think T.O. won't at least come up once in conversation between Polian and Irsay today? I'm not so sure.
Please enable JavaScript to view this content.