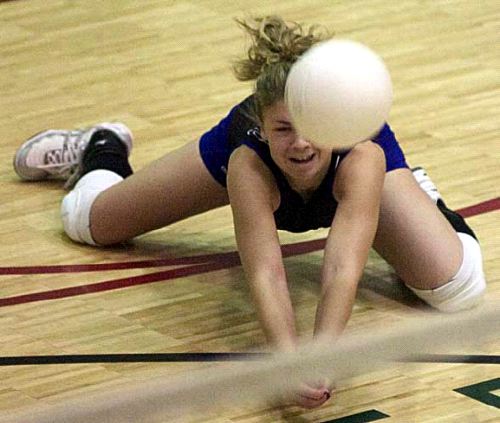 The biggest women's sporting event in town this weekend isn't the Big Ten basketball tournament at Conseco Fieldhouse. At least not according to organizers of the 2009 Mizuno Hoosier Mideast Qualifier. In any event, the two events downtown should draw quite a crowd.
The Mizuno Hoosier Mideast Qualifier, which is being held in the Indiana Convention Center today, tomorrow and Sunday, is one of the biggest women's volleyball tournaments in the nation. It is expected to draw 520 teams of 16-, 17- and 18-year-olds.
Organizers said the tournament will draw teams from 40 states and 20,000 spectators. Team members, coaches officials and spectators will book 12,000 hotel room nights. The tournament—a qualifier for various national tournaments—will unfold on 66 courts configured within the confines of the Convention Center. Tickets are $4 for one day or $10 for all three days.
"If you're downtown this weekend and you're wondering why you can't get a hotel room or you're waiting on a table at a restaurant, it's a good bet that our fans will account for a lot of that business," said tournament business director Ryan Bozell, noting that the tournament provides an economic impact estimated at $14 million.
"The size and scope of this tournament reinforces our reputation as the nation's amateur sports capital," said City County Councilman Jeff Cardwell.
Recruiters from more than 350 collegiate volleyball programs are expected to attend the tournament.
"This is a great opportunity for coaches during recruiting season," said Matt Bottsford, Notre Dame women's assistant volleyball coach. "It's also a big event for the players and their families to get together at one of the biggest events of its kind."
Please enable JavaScript to view this content.