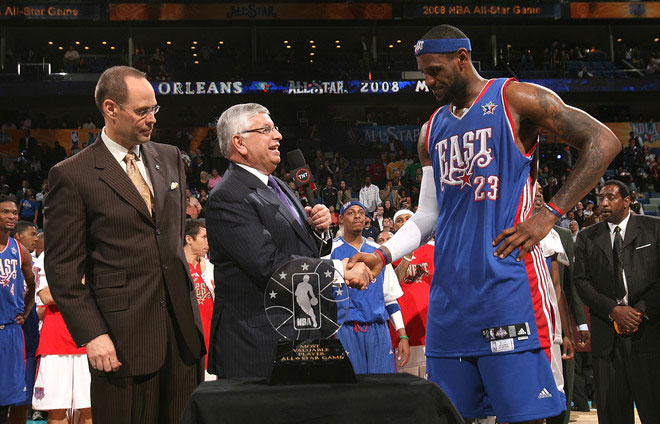 I'm not a sky-is-falling kind of guy by nature. But I think there's a seismic shift underway in the NBA. The Indiana Pacers' financial distress is just the tip of the iceberg.
I'm not sure many team owners or general managers see the size of the tsunami about to besiege them. Commissioner David Stern is a very smart guy, but I'm sure the leaders of Rome were equally intelligent when they took their historic tumble.
Sports radio host Dan Dakich suggested to me yesterday that surely the Indiana Pacers can't go away. I beg to differ, and it's time we all start acting like the possibility is real.
The signs are definitely there—and they spread way beyond Indianapolis. Twenty seven of the league's 30 teams either plan to freeze of lower ticket prices next season. We're not talking about the dregs of the league here. Among the teams seriously considering freezing or dropping ticket prices are Boston, Cleveland, San Antonio and Chicago. And Yes, the Pacers. Attendance and sponsorship is down league-wide. Several teams are considering 10 percent to 15 percent across-the-board budget cuts.
Since the players' salary cap is figured on league revenue, it's only a matter of time before the cap comes down. It's probably time for NBA owners to consider a harder cap. There's only one thing the players' union fears more than that. Contraction. It's laughable to think there are other markets waiting with open arms and sweeter deals for beleagured teams. We all see how that is working out in Oklahoma. 
Sooner or later, one city somewhere will cease the massive give-aways to its NBA team—not because they want to, but simply because economically, they have to. And then the dominos will begin to fall—at a torrid pace.
Will it be New Orleans? Oklahoma? Gasp, Indianapolis? Never say never. Especially in this climate. And when the players' union realizes this reality, they should be willing to talk turkey with owners. And owners should be willing to get serious about revenue sharing and a sustainable business model.
Even when the economy rebounds, the golden age of NBA players' salary will be over. We're headed toward a time when a professional athlete can make a good living—a very good living. But the days of mad money, the days of NBA players knocking down $15 million a year or more—will soon be over.
Think I'm crazy? We won't have to wait long to find out. At the outset of this season, all we heard about was the wild 2010 free agency frenzy about to unfold. The storyline was that teams will be fighting over the likes of LeBron James, Amare Stoudemire, Chris Bosh and a few other prized players due to hit the free agency market. Teams were clearing salary cap space to prepare. Heck, I even thought Larry Bird might take that opportunity to upgrade the Pacers.
Word out of New York was that Knicks General Manager Donnie Walsh (of previous Pacers fame) would offer LeBron the league's largest contract. And maybe, just maybe, in New York they could actually afford that kind of deal. But at what cost to the rest of the league. At what cost to a team like the Indiana Pacers. Ironic to think, a loyal guy like Donnie Walsh could stick the last dagger in his former team.
Please enable JavaScript to view this content.