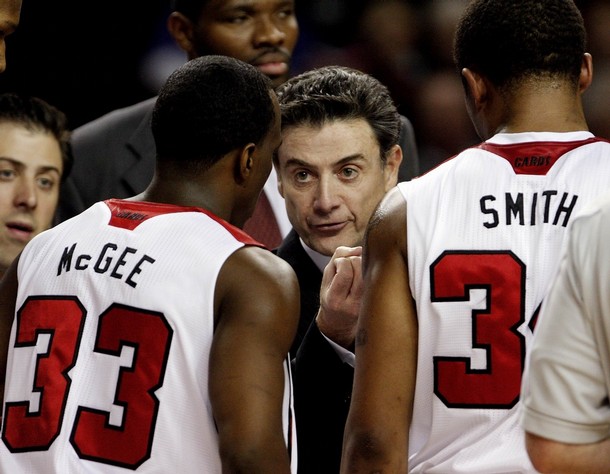 One of the biggest winners in the first two rounds of the men's NCAA basketball tournament: Downtown Indianapolis restaurants, hotels and other local businesses, not to mention those counting on event revenue to offset expenses at the new Lucas Oil Stadium.
In this era of the staycation and one-tank trips, it's good news that three of four teams qualifying for this coming week's sweet sixteen games at LOS are an easy day's drive from Indy. Coming off the sting of an attendance decline at the men's Big Ten tournament, this couldn't be better news for the folks at the Indiana Sports Corp., Indianapolis Convention and Visitors Association, et al.
Certainly there were some nervous moments for city leaders when Siena was threatening Louisville's march to Indianapolis. The No. 1 seeded Cardinals prevailed and will face the only non-Midwest team advancing to play in Indy, Arizona. Those two teams will meet at 7:07 p.m. Friday. Kansas will play Michigan State at 9:40 p.m. the same day.
Granted, the Rock, Chalk, Jayhawk bit can get a little old if you're not a KU fan, but like it or not, these fans travel to watch their team. Likewise, Louisville fans travel—especially when the games are an easy drive up Interstate 65. MSU too has built a strong traveling fan base since Tom Izzo has built the program during the last decade plus.
Compare Indy with the Glendale, Ariz. regional, which hosts Purdue, Connecticut, Missouri and Memphis. Unless, Huskies Coach Jim Calhoun pays to take half the cash-strapped state of Connecticut to Glendale, that regional may be in trouble attendance wise.
Meanwhile, ticket sales could exceed projections in Indianapolis. Already 15,000 three-game/$140 tickets (the most expensive) are gone. Each school will get a minimum of 500 to sell. Most will request a block of 1,250, and if they sell those can come back to see what else is available. Hard-core fans are already hitting NCAA.com/mbb to get their tickets. Fans can buy tickets at the Lucas Oil Stadium box office starting Thursday.
"The stadium will be set up to seat 40,000, but we'd be very happy with 25,000," said Indiana Sports Corp. spokesman John Dedman. "We were pleased with how the draw played out. We hope to have a nice bump in sales today now that teams know where they're headed."
A few thousand fans one way or the other can make a big difference. If you conservatively figure that each fan will spend $400 for a ticket, hotel, gasoline, meals, and souvenirs, that means 5,000 fans would bring $2 million in direct visitor spending to the city. In this economy, that's not chump change.
This is the first year Indianapolis has hosted an NCAA regional round since 1979. It will be an interesting test for those charged with attracting visitors to our city and plying money from their wallets and purses. Game on.
Please enable JavaScript to view this content.