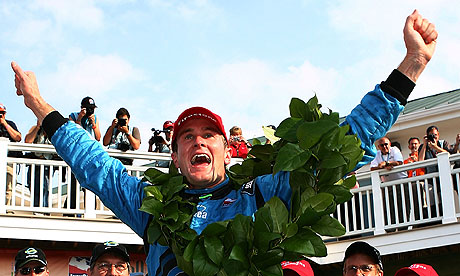 New York-based Phillips-Van Heusen Corp. will roll out its new Izod/Indy race-inspired clothing collection in Macy's stores nationwide in April. The launch will be accompanied by a national multi-million dollar advertising campaign as well as an Indianapolis 500 sweepstakes. Izod is the official apparel of the Indy Racing League, Firestone Indy Lights and the Indianapolis Motor Speedway.
Problem is, the poster boy for the campaign, IRL driver Ryan Hunter-Reay is not confirmed for the series yet. Hunter-Reay lost his ride when his former sponsor, an American consortium of ethanol producers, pulled out of the series after last season.
HVM Racing recently announced Hunter-Reay will do some testing for the team, but a deal to give him a full-time ride is still being negotiated. Lack of sponsorship for Hunter-Reay is still a problem. A Phillips-Van Heusen official said it would be a "significant problem" if Hunter-Reay is not on the track this year, but still, Izod is fronting little to no money to sponsor his car.
Meanwhile, PVH honchos are readying the green flag for their campaign.
"The [IRL] is an ideal fit with the sport-spirited Izod brand lifestyle," said Allen Sirkin, president and chief operating officer of PVH. Macy's is providing a platform to highlight the partnership between Izod and the IRL, Sirkin added.
An Izod/Indy themed 30-second spot will run during all nationally televised ABC and Versus IRL race broadcasts, as well as in movie theaters nationwide. The media plan also includes print advertisements to appear in Sports Illustrated and ESPN The Magazine, and high-profile billboards in New York City's Times Square and in Toronto. All advertisements feature the 2008 Indianapolis 500 Rookie of the Year, Hunter-Reay.
Promotional activities for the Izod/Indy sportswear collection include a Web-based national sweepstakes to be hosted exclusively on macys.com from April 4 to May 8. The grand prize is a package for four to the 2009 Indianapolis 500, which includes a police escort to and from the track, all-access pit and garage passes, pace car rides, access to the pre-race driver's meeting, Festival Parade tickets, hotel accommodations and air travel.
This year begins a "Centennial Era" at the Indianapolis Motor Speedway, a three-year celebration marking the 100th anniversary of the Speedway in 2009 and the Indianapolis 500 in 2011. Izod designers have taken 100 years of Speedway and Indy 500 artwork and designed vintage look-and-feel short sleeve polo shirts and tees to commemorate the heritage of Indy racing. In addition, a track and race-inspired collection of solid cotton piques feature official logos and special centennial insignias for the Indianapolis Motor Speedway and Indianapolis 500.
Throughout this IRL season, in-store promotional events will take place at select Macy's stores nationwide beginning with the season opener next month in St. Petersburg, Fla. These events include meet-and-greet autograph sessions with IRL drivers and legends of the Indianapolis 500, as well as an Izod/Indy race car showcase. Events will be held in markets such as Los Angeles; Kansas City, Kan.; Indianapolis; Dallas; Richmond, Va.; Columbus, Ohio; New York; San Francisco; Chicago and Miami.
"The IZOD-Macy's partnership and promotional plan is easily one of the biggest we have seen outside of our endemic space and will transcend the sport," said Terry Angstadt, president of the IRL's commercial division.
Under its July 2008 sponsorship agreement, PVH also provides exclusive apparel to IRL and IMS executives and crew—from pit officials and track flagmen to the on-air broadcast talent and track announcers.
Please enable JavaScript to view this content.