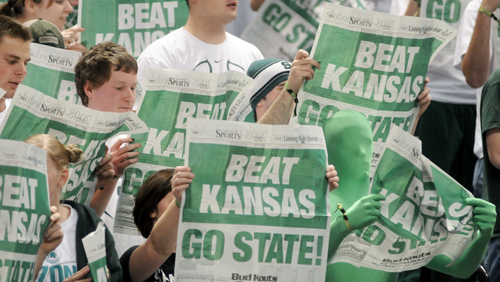 Today starts a big four-day weekend for Indianapolis. Given the sports-business strategy this city is built on and the soft economy, this weekend dotted with NCAA and high school state championship basketball events has more relevance than most in recent years.
Not only is the economic impact crucial for area businesses, but taxes from tickets, hotel rooms, restaurants and other spending linked to the games goes toward paying for the two venues-Conseco Fieldhouse and Lucas Oil Stadium-which have become the center of so much controversy surrounding the Capital Improvement Board.
Already stung by down attendance at the men's Big Ten tournament, not to mention Indiana Pacers games, downtown is counting on a score from the boy's high school state finals and the first NCAA men's regional round the city has hosted since 1979.
The NCAA games will be played Friday and Sunday, but the teams and fans are already arriving. Lucas Oil Stadium is hosting open team practices today. The four boys high school games are sandwiched between NCAA games on Saturday.
The high school finals played at Conseco Fieldhouse have steadily drawn between 30,000 and 34,000 downtown for the two Saturday sessions during the last five years. Many local high school hoops fans decried the fact that no Indianapolis team made the finals. This could actually benefit downtown businesses. Out-of-town visitors are more likely to spend the night in a hotel or eat a meal or two at a restaurant. The high school games could also get an attendance bump from traveling NCAA basketball fans looking for something to do Saturday.
If 32,000 show up for the high school games, that should bring $2 million in direct visitor spending. It wouldn't be without reason that visitor spending could swell to $3 million. Not bad for a single day during a sluggish economy.
The NCAA games are a much bigger prize. Already, more than 25,000 tickets have been sold. With three of the four teams here coming from the Midwest, that could easily eclipse 30,000. The folks at the Indiana Sports Corp. are being conservative in their expectations, but if Michigan State and Kansas fans travel in the numbers they normally do, and Louisville fans make the trip in droves up Interstate 65, it's not out of the question that ticket sales could swell to 35,000. Lucas Oil Stadium is configured to seat 40,000.
What's difficult to predict is how many fans whose team lost in Friday's games will unload tickets for the final at a cutthroat price. That will certainly hurt this city's economic impact. Even so, you can bet that many fans traveling in for all or part of this four-day event will spend at least one night in a hotel and eat multiple meals and probably even swill a few beers downtown.
Granted, some of the people buying tickets will be hoops fans from central Indiana. But most will be out-of-towners. If you figure conservatively that each person traveling to Indy will spend $300 here, direct visitor spending of $9 million for the NCAA games is within reasonable reach.
Lots of folks like to talk about economic impact. That number is figured based on multiples of visitor spending. Economic impact takes into account, for instance, that a hotel worker who works more hours and gets more tips will spend money at area stores and restaurants, etc. and so on. So if you like an economic impact figure for this weekend of basketball, I'm predicting a number near $30 million. Either way you slice it, it's not bad for a medium-sized Midwest market in a sickened economy.
Please enable JavaScript to view this content.