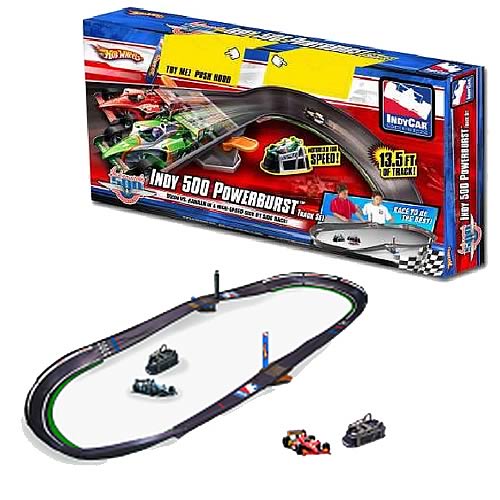 Down economy or not, the Indy Racing League sales staff is in overdrive. In the last week, IRL officials finalized four new sponsorship deals.
First, IRL officials Thursday night (March 26) inked a deal with Hot Wheels. A big part of the pact was reaching distribution agreements with Walmart, Target and Toys R Us to sell the IRL replica cars and track sets nationwide. Hot Wheels will make a variety of replica cars, including traditional-sized Hot Wheels cars, larger 1/24th scale cars, a car with a computerized sound chip that makes various racing noises, and IRL slot car and track sets. There also will be a special line made for collectors.
"I just saw the display units, and they're really, really well done," Terry Angstadt, president of IRL's commercial division, told IBJ Friday. "They're phenomenal."
The IRL licensed Hot Wheels products will hit the market in April, Angstadt said, with the full line available by July. Indianapolis Motor Speedway and Indy 500 themed cars and track sets (which will include a yard of bricks) should be available in May.
The IRL also has recently signed leaguewide sponsorship deals with online travel agency Orbitz; DB Schenker, a California-based logistics provider; and the National Guard.
Meanwhile, the deal with Izod also is moving forward. On Friday, Angstadt said Vision racing will put Izod spokesman (and IRL driver) Ryan Hunter-Reay in a car for the entire season. Hunter-Reay lost his ride after last season, when his American ethanol sponsor pulled out of the series. And on Wednesday, IRL drivers Dan Wheldon and Tony Kanaan will appear at Macy's in Clearwater, Fla. to help roll out the new Izod-IRL clothing line.
Angstadt said it's been a big year for the IRL, and that sponsorship revenue is markedly up this year over last. He added that three new sponsors, Brazilian-based Apex (an ethanol provider), Hot Wheels and Izod will be three of the league's five biggest spenders in terms of sponsorship activation. Honda and Firestone, Angstadt said, remain the top two activation spenders. Sponsorship activation means spending to promote the series through such things as billboard, print, TV and radio advertising and in-store and other promotions.
As for the series title sponsor, Angstadt is optimistic an announcement will be forthcoming some time during this season for a deal beginning in 2010.
Please enable JavaScript to view this content.