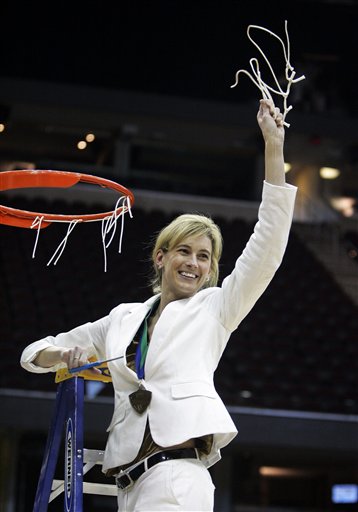 Ball State women's basketball coach Kelly Packard, who today was named Maggie Dixon Div. I Rookie Coach of the Year, earned herself a nice payday this month. The first-year Cardinals coach earned a $10,000 bonus for winning the Mid-American Conference tournament earlier this month. With that MAC tournament victory, BSU earned an NCAA tournament berth, earning Packard another $10,000 bonus. It was the BSU women's hoops team's first ever NCAA tournament appearance.
Packard then earned another $20,000 bonus for beating Tennessee in the first round of the tournament. It was the first time in tournament history Tennessee lost a first-round game.
Unfortunately, for Packard, Ball State lost in the second round to Iowa State. Packard has a clause in her contract that awards her $20,000 for each NCAA tournament victory. Still, all that bonus cash on top of her $150,000 annual salary makes for a solid haul.
Packard became the first coach in Ball State's women basketball history to win 26 games in a rookie season. She led the Cardinals to their best ever overall and home records, 26-9 and 14-1, respectively. Ball State also had its best Mid-America Conference showing, with a 14-2 record.
Women's Basketball Coaches Association officials said despite a deep field of good rookie Div. I hoops coaches this year, Packard stood head and shoulders above the field. BSU Athletic Director Tom Collins may have his hands full trying to keep Packard long-term, even with the bonus structure.
Please enable JavaScript to view this content.