Update: The Louisville Convention and Visitors Bureau apparently isn't giving up yet on marketing to Indianapolis residents. This afternoon, LCVB said they still plan to bring their motor coach to Indianapolis on April 14 to try to lure locals to the Bluegrass state with give-aways, coupoons and the opportunity to win a free trip to the Kentucky Derby. At this point, they are merely trying to work out an exact time and place. It will not be at Victory Field, as previously announced. Officials with LCVB's marketing firm, Bandy Carroll Hellige, said they hope to have an announcement later this week, possibly as early as Thursday.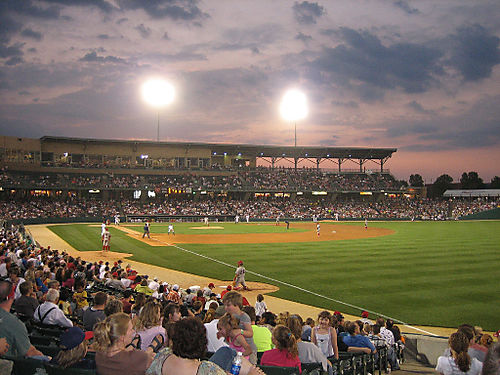 A deal between the Indianapolis Indians and Louisville Convention and Visitors Bureau has been scuttled. The cancellation comes less than a week after Louisville officials' efforts to beam their promotional message on downtown Indianapolis buildings during the NCAA regional here was stifled. Indianapolis city officials said the promotion during the NCAA games was halted because Louisville officials failed to secure the proper permits.
The reasons why the Indians promotion was cancelled were less clear. A spokeswoman for the LCVB said she didn't know why the promotion was halted, and a call to LCVB CEO Jim Wood went unanswered this morning.
Louisville tourism officials planned to bring in a 45-foot motor coach to the April 14 Indians game to spread their message, host a huge tailgate party and give away discounts for numerous Louisville area attractions and other freebies and also registering people to win a pair of tickets to this year's Kentucky Derby. The theme of the promotional campaign was going to be that Louisville is an ideal location for nearby spring and summer getaways during this challenging economy.
"After considering the promotional opportunity [with the LCVB], we felt our relationship with the [Indianapolis Convention and Visitors Association] was more important in the long-run than what this promotion would do in the short-term," said Cal Burleson, Indians vice president and general manager. "We just didn't think it was something we should move forward with, especially in light of what happened with the NCAA basketball regional. We want to be a good corporate citizen here in Indianapolis."
No word on if Louisville tourism folks will make other attempts to reach Indianapolis area residents and businesses with their message, but an April 25 event in Evansville will go on as planned.
Please enable JavaScript to view this content.