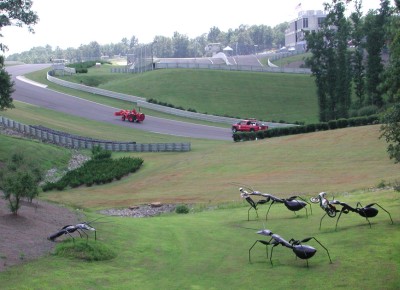 While Indy Racing League teams and officials are heading to St. Petersburg, Fla. for the April 5 season opener, their mind may be wandering to not-so-far away Alabama.
In March, IRL teams made their third testing trip to the Barber Motorsports Park near Birmingham. When about 20,000 spectators showed up for the two-day testing run, that got IRL officials' attention.
"[Barber officials] told us they liked our property and think they can build a business around an [IRL] race there," said Terry Angstadt, president of IRL's commercial division. "It's nice to hear that. They couldn't have rolled out the red carpet at that track and in the surrounding community more than they did."
Angstadt said there is a solid shot the Barber road course could be added to the IRL slate in 2010 or 2011. Several turns in the course would have to be widened to accommodate passing, Angstadt said, and widening pit row also would be nice. Despite it being in the heart of NASCAR country, it's a market IRL officials are eager to penetrate.
"It's not a DMA that jumps out, but if you look at the three-hour radius, that's 24 million people," Angstadt said. "Firestone loves this market. There are lots of automotive manufacturers there, and since we left Nashville (Tenn.) it could give us a stronger presence in the Southeast."
Another problem, said Angstadt, is there are no grandstands. But he thinks those could be relatively easily added. The facility does have a sizable media center and museum.
"It's like Augusta (home of The Master's), with rolling elevation and magnolia trees," he said. "It's the prettiest motorsports facility you'll ever lay eyes on."
With the IRL looking to add races earlier in the year, Alabama could be a good fit.
"We have capacity at the front end of our schedule," Angstadt said. "Ideally, we want to start our season in March and end in October. We have 17 races now, and I could see expanding to 20 pretty comfortably."
Alabama isn't the only new location IRL officials are considering. Facilities in Cleveland, Houston, Brazil and China also are being studied, Angstadt said.
Please enable JavaScript to view this content.