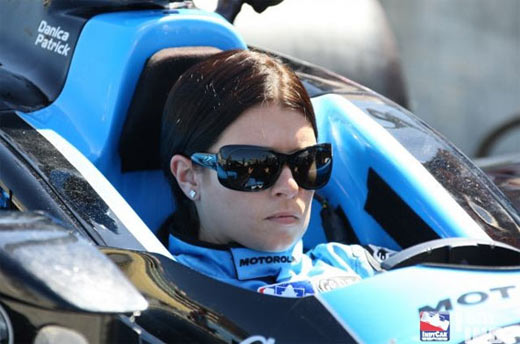 It was an odd site before the Indy Racing League race in St. Petersburg Sunday. There was Danica Patrick talking about her new approach to racing. She was telling Versus' Jack Arute that she wasn't going to get upset over every little thing this season, and was going to try to enjoy her racing more.
"If you don't win, you can find something to complain about every week," Patrick told Arute with a smile.
Patrick promised to be as competitive as ever when the green flag dropped, but it sounded like she was swearing off tantrums. Could this be the dawning of a new era; a kinder, gentler Danica?
Her new philosophy was put to the test on lap 31 of Sunday's 100-lap road race, when rookie Rafael Matos and Patrick tangled and crashed. It looked like Patrick responded professionally. After the crash, when the two drivers exited their cars, Patrick tapped Matos on the helmet, as if to say, "think." Then the two had a mildly animated conversation while waiting for a ride back to the pits.
"It's not exactly the ideal spot to pass." Patrick told reporters later. "We were going into the fast chicane there and there's no room, there's no room for two people. … I was looking in my mirrors and I saw him. He just wasn't all the way up next to me."
Matos, for his part, blamed the accident on Patrick, saying she passed a lapped driver when she shouldn't have, then didn't give him enough room to pass.
The media was quick to cover the Patrick-Matos interaction, with some jumping on the same old story line. The Indianapolis Star this morning ran the headline, "Danica wrecks, whines."
It appeared from video replays, Patrick had a legitimate beef. So even if Danica is ready to turn the page, it appears those who follow and report on the sport are not.
Please enable JavaScript to view this content.