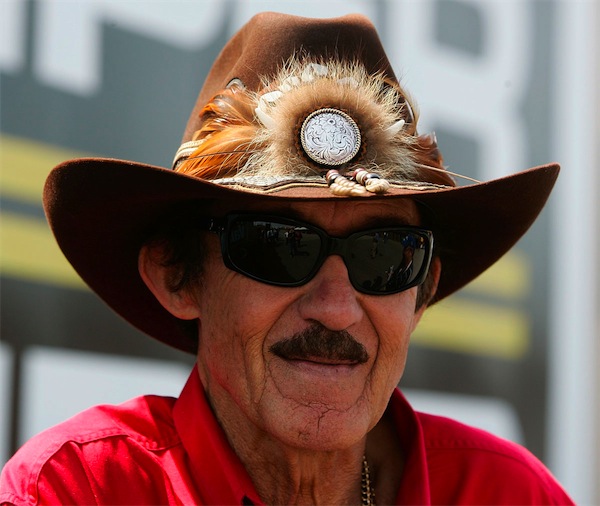 Open-wheel racing has long been bigger with the wine-and-cheese crowd than with the blue-collar bunch that made NASCAR the biggest racing circuit in North America. That's been OK for Formula One, with its world-wide reach and exotic appeal. For the Indy Racing League (and the late Champ Car), that formula has been problematic.
Cross-overs like Tony Stewart and Robby Gordon have done little to take open-wheel to the dirt-under-their-fingernail masses that have fueled NASCAR. But if The King of NASCAR, Richard Petty, becomes truly involved—even enamored with the sport, the mass appeal IRL officials have unsuccessfully sought for more than a decade could be a whole lot closer.
If the seven-time NASCAR series champ is nothing more than a silent partner in an effort to put driver John Andretti on the famed Brickyard this May, his involvement will have little impact. The Indianapolis Motor Speedway rolled out Petty yesterday at a press conference with Andretti and Dreyer & Reinbold Racing officials, who will help Petty field a car.
Already the story is getting major nationwide play, including stories in the Los Angles Times and New York Times. If Petty and his cowboy hat are regulars in the Speedway's pit lane this May, the spotlight on Indy will become a bit broader, a bit brighter.
Petty, for his part, looks like a guy interested in more than just making the field of 33. John Andretti, 46, has driven stock cars and Indy cars in his career, and has driven for Petty's NASCAR teams in the past. Andretti has been lobbying Petty for some time to join the open-wheel fray. Petty said there was a defining moment not too long ago that swayed him.
"They wanted to paint [the Indy car] red and blue and put a big 43 on it," Petty said. "They just kept doing things and running at me. I finally said, 'Yeah, let's just give it a try and see.'" Click here to see the car's paint scheme.
Petty seemed almost put off when reporters yesterday suggested he is merely putting his name on the team.
"It's not just a publicity stunt like I told you," Petty said. "We're up here, we're serious with this deal. We've got a good car. We've got a good crew that's capable of doing what we need to do with it."
Petty promises to be here for qualifications and several practice days. He didn't commit to how much time in May he will spend here, but I'm sure IMS and IRL officials are hoping he's here plenty. And race day? Will Petty scurry off before the checkered flag drops so he can make it to the start of the NASCAR race the same day? You can bet ABC camera crews will be focused on him plenty.
"If [John Andretti's] leading, I ain't leaving, OK?" Petty said. "I come to be involved with our car, Richard Petty Motorsports car. From that standpoint, we're gonna be here as long as John is, OK? Then I think they can probably start the [Coca-Cola] 600 without me."
Richard Petty, forgoing the start of one of the year's biggest NASCAR races for an Indy car race … Now that will turn heads. If The King of the Good Ole Boys becomes an IRL fan in the process, that's a good day in the land of open-wheel.
Please enable JavaScript to view this content.