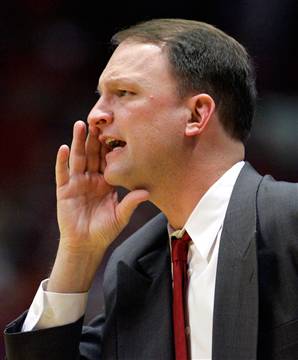 Basketball coach turned radio talk show host Dan Dakich isn't sure about his future. While the former Indiana University and Bowling Green State University basketball coach said he's focused 100 percent on hosting his sports-talk show on WFNI-AM 1070, he said he's willing to listen to offers that might bring him back to the college game.
Dakich's show—which was launched Oct. 6, 2008—runs locally from 10 a.m. to 1 p.m. Monday through Friday on the Emmis Communications-owned station.
"I never look for a job, while I have a current job," Dakich said as he prepared for his show this morning. "I'm trying to do the best I can at this particular job at this particular time."
Dakich said his radio job has also given him more time to spend with his family than his coaching duties allowed. This past year, Dakich coached his 14-year-old son's football team, and his son's and 11-year-old daughter's basketball teams.
That said, Dakich admits that through his broadcast job, he talks to a lot of people involved in college athletics. And his return to coaching does occasionally come up.
"As much as I love the job I have, I also love coaching," said Dakich, who maintains a home in Bloomington. "And while I've done this job, I think I've been able to improve my skills and abilities as a coach. I've attended leadership programs and visited with a lot of other coaches."
On the top of Dakich's networking list are people like University of Florida football coach Urban Meyer, IU grad and New Jersey Nets coach Lawrence Frank and Notre Dame basketball coach Mike Brey.
No formal offers have come his way yet this off-season, Dakich said, but his networking has led to lots of conversation about future possibilities. "I talk to a lot of people about a lot of things, and some of those things have had to do with coaching opportunities," Dakich said.
In 2008, Dakich took over briefly as IU head coach when Kelvin Sampson was fired. IU decided after the 2007-08 season to hire Tom Crean.
Dakich spent 12 seasons on the IU coaching staff from 1985-97. He was a graduate assistant from 1985-87 before being named full-time prior to the 1987-88 season.
Prior to returning to IU, Dakich spent 10 seasons as the head coach at Bowling Green, posting the third most wins in school history, notching a 156-140 record.
Please enable JavaScript to view this content.