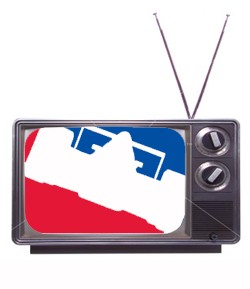 The Nielsen ratings for the first Indy Racing League race Sunday in St. Petersburg were down 60 percent from the same race a year ago. The 2009 St. Petersburg race was the season kick-off, and the first race on cable channel Versus. Last year, the race was on ESPN.
Total viewership dropped from 575,000 households last year to 233,000 this year, according to New York-based Nielsen Media Research.
"This is a number Versus research predicted, so there's no surprise here," said IRL spokesman John Griffin. "The fact is, when things on TV are slow, Versus is not a channel people surf onto the way they do with ESPN. We know the work we have ahead of us. The Versus ad campaign just started, so hopefully that gets us some traction."
Household viewership did spike from a .3 rating to a .4 during the last laps of the race.
"This is just one early-season race, and there's no reason to judge the entire relationship on this race," said Tim Frost, president of Frost Motorsports, a Chicago-based motorsports business consultancy.
Technically, Frost gave the production good marks. "The number of cameras they used was very solid, as was the production quality and the commentary," he said.
IRL officials said there was plenty of upside to the opening week. Griffin said feedback from racing fans that did watch the season opener was better than 90 percent positive.
"We couldn't be happier with our opening week of race coverage on Versus," said Charlie Morgan, president and chief operating officer for IMS Productions. "Versus' commitment was to super-serve [IRL] fans and based on the response we have seen from our fans they are thrilled with the amount and quality of coverage available to them throughout the weekend."
"We just have to do a better job of helping people find Versus and letting them know what Versus is capable of doing," Griffin added.
Frost said Versus has a track record for building sports properties' viewership. "Versus has consistently [increased] the ratings of NHL games, and I expect the same with the IRL," Frost said.
Please enable JavaScript to view this content.