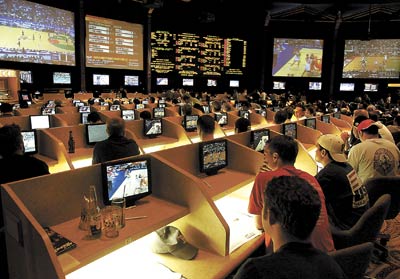 It may seem absurd. No, scratch that, it does seem absurd. But there's a simple solution to solve the Capital Improvement Board's $47 million budget shortfall. Legalized sports gambling.
That proposal won't see the light of day during the current CIB debate, but sooner or later, some brave politician will broach the idea. I'm betting sooner, rather than later. And this is why. Legalized sports gambling has long been the garbage route of organized crime. But lets face it, it's a multi-billion-dollar business. And if it's taxed, it would very easily slam shut the CIB's shortfall.
Already, Nevada, Oregon, Delaware and Montana have legalized sports gambling. New Jersey wants it. And—gasp—Iowa is looking hard at it. Yes, Iowa, with many of the same Midwestern values as Indiana.
But the domino that will trigger Indiana's move is this; Sooner or later some community somewhere—maybe in Iowa—will use the taxes from legalized sports betting to build an arena or stadium, maybe even expand a convention center. Eventually a city or region will use the money to lure a professional sports franchise. And suddenly, legalized sports betting is a necessary evil to compete as a city housing a team or a dream to be a convention capital. Indianapolis will simply have to have it to keep up.
Sure, there will be protesters. The NCAA is certain to be leading that parade. But by the time it gets to that point, it won't matter.
Politicians will eventually tell themselves—and their constituents—how much different is it to place a bet on a pony at Hoosier Park than to make a wager on the Indianapolis Colts? That line will be blurred, and crossed. 
Sure, it seems absurd now. But once upon a time, so did a state-run lottery in Indiana. And so did Hoosier homed pari-mutuel horse tracks. And river boat casinos. Given the history of this state—and its infatuation with being a major league city, legalized sports betting in Indiana doesn't seem to face long odds at all.
Please enable JavaScript to view this content.