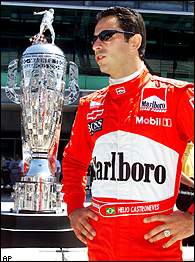 Entering the fourth day of deliberations in the tax evasion case of Indy Racing League driver Helio Castroneves, series officials now have to be seriously wondering what will become of the month of May if he is cleared. Officials for Team Penske have intimated that they will put the wayward racer back behind the wheel if he is exonerated.
Castroneves is charged with failing to pay taxes on $5.5 million earned between 1999 and 2004. Castroneves is claiming he's innocent. But with deferred payments and off-shore accounts part of the discussion—fair or not—Castroneves, if exonerated, is going to be seen in certain circles as a guy who beat a tax evasion rap.
So, if Penske puts him in a car this May in Indianapolis, you have to wonder what the main storyline is going to be. I can tell you, it won't be Ryan Hunter-Reay's new Izod deal. While I'm sure there will be happiness within the open-wheel fraternity for the much loved Castroneves, the IRL marketing staff will be left to figure out how to spin this. While they're likely to get kid-glove treatment from their new broadcast partner Versus, other media won't be as kind.
And while some think there's no such thing as bad media exposure, this type of baggage couldn't come at a worse time. The league has made traction in some sponsorship circles and remains desperate to find a title sponsor by the end of this year. While the IRL will be trying to focus attention on its new sponsors, including Hot Wheels, Apex Brasil, Orbitz and the National Guard, many media outlets are bound to be laser focused on Castroneves and his case.
If somehow the two-time Indy 500 champion end's up in the winner's circle—or even on the front row for the start, the media storm is sure to be intense. The way teams pay their drivers will almost certainly be explored by investigative reporters. What should be a glorious kick-off to the Indianapolis Motor Speedway's centennial celebration, could turn into a bumpy ride.
Please enable JavaScript to view this content.