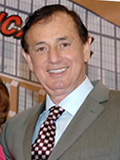 At first glance the Indianapolis Colts schedule looks pretty good for all concerned. Forrest Lucas, founder of the oil company that put its name on the Colts one-year-old stadium, called the team's 2009 slate "dynamite."
But upon further review, you have to wonder if someone in the league's scheduling office has it out for Lucas Oil Co. and the city of Indianapolis. True, the Colts will get lots of prime time exposure. Problem is, four of those five prime time, nationally televised games are on the road.
The NFL doesn't seem too concerned with how much exposure this small market gets. Despite having one of the league's marquee teams, Indianapolis only plays host to one prime time game—Nov. 15. Fortunately for Indy and Lucas Oil—which paid $121.5 million to affix its name to the Colts' stadium—that game has the potential to be the best regular season game of the 2009 campaign. It features New England and quarterback Tom Brady in his comeback season against the high octane Colts.
Meanwhile, the Colts will play a Monday night game at Miami Sept. 21, Sunday night games at Arizona Sept. 27 and at Tennessee Oct. 11 and a Thursday nighter at Jacksonville.
Six of the Colts eight home games will have a 1 p.m. kick-off, usually the slot that earns the lowest TV ratings. This is hardly good news for a city banking on all the exposure it can get to build its tourism, convention and corporate business. It also has to be a bit of a let down for Lucas Oil.
Forrest Lucas isn't complaining. He told me in a phone conversation yesterday, his California-based company is getting great—even greater than anticipated—exposure from the stadium naming rights deal.
"We've been involved in motorsports for years, and when I ask people what they know about our company, the first thing they mention is the stadium," Lucas said. "This deal has gotten us exposure worldwide."
Lucas underscored the importance of the Colts' prime time home games for his company. Lucas said they're especially important now, as Lucas Oil is testing new products in about 600 Auto Zone stores, with plans to make a serious nationwide push into the consumer motor oil sector later this year and next year.
"We're ready to get into more mainstream markets in a big way," Lucas said. "Those national TV games are huge for us. That's the No. 1 thing we wanted with this deal."
While Lucas said he is not disappointed by the deal "in any way," he does hope to see a wider array of future events in the Stadium, including motorcycle racing, tractor pulls and concerts. Lucas thinks a tractor pull to coincide with the FFA convention is a natural fit.
"I think there are a lot of events they could bring in that they haven't yet," Lucas said. "Naturally, the more events they can bring in appealing to a wide ranging audience is good for Lucas Oil."
Please enable JavaScript to view this content.