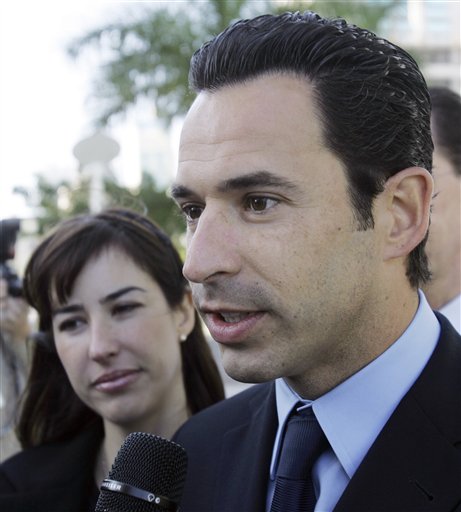 Helio Castroneves will be on the track this weekend in Long Beach, Calif. Penske officials had a contingency plan in place to put him on the track—even as far back as two weeks ago at St. Petersburg.
Penske Racing officials said Castroneves will be flying to California later today and would be behind the wheel of an Indy Racing League car tomorrow. As soon as the verdict was read, Penske Racing owner Roger Penske dispatched one of his planes from Detroit to pick up Castroneves in Florida where the case was held.
"We said, we're ready for you, and he said, 'I'm coming,'" said Tim Cindric, Penske Racing president.
Castroneves will drive the No. 3 car for Penske, and will be the third entry for Penske at Long Beach and at Indianapolis in May. Penske officials remained non-committal about running a third car for the full season, but one thing was clear. Castroneves would have a ride for the remainder of the season. Will Power could be the odd man out at Penske.
"[Castroneves] is a true star in every sense of the word, and his infectious personality, popularity and success on the track is welcome back," said Brian Barnhardt, Indy Racing League chief operating officer.
It will be interesting to see how the IRL's new TV partner, Versus, treats the issue at Sunday's race. It will also be interesting to see if any of the team's or series' corporate partners will have any hesitancy in being associated with Castroneves, who was up on charges of evading paying taxes on $5.5 million.
Penske officials said they feel they'll have few problems refocusing Castroneves from the case to racing.
"If I hadn't known him as well as I do, I might question if this is the right move … but his focus and concentration is among the best," Cindric said.
Castroneves will likely hold a press conference some time over the weekend at Long Beach, Cindric said.
Please enable JavaScript to view this content.