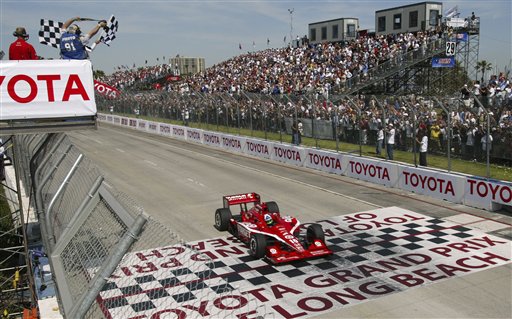 By all accounts the Grand Prix of Long Beach was a success for the Indy Racing League. The IRL, which signed a five-year deal to take over the former CART event following last season, was greeted by larger crowds (than 2008), increased corporate hospitality activity and strong retail sales, according to several sources at the weekend event this past Friday through Sunday.
All this despite 11.5 percent local unemployment. Long Beach Grand Prix President Jim Michaelian said attendance was up considerably from 2008. He said 10 percent seating capacity was added over last year, but still more is needed to reach the capacity of the race's salad days.
Traffic on Interstate 710 was more crowded and backed up than it has been since 1999 or 2000, several local media outlets reported. Hot Wheels ran out of merchandise early Sunday, according to Matel officials, and several other merchandisers reported strong sales.
Vivienne Tondreault, who has been a volunteer Grand Prix race worker and organizer for two decades, credited the weather and the allure of IRL drivers with driving the crowd up. "The Indy Racing League has brought out new fans in droves," she said. "The attendance is noticeably higher."
Race organizers don't think they got a huge attendance bump from Helio Castroneves' participation because it was announced so late.
"We were pleased by the event, and we think there's room for growth," said IRL spokesman John Griffin. "The crowds Friday afternoon were pretty incredible. And we heard from race officials that hospitality activity was way up. There's little doubt this will become a highlight on the [IRL] schedule and has the potential to be a top 5 race in our series."
Please enable JavaScript to view this content.