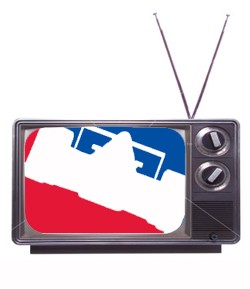 The Grand Prix at Long Beach last Sunday scored a .5 TV rating for the Indy Racing League, according to New York-based Nielsen Media Research. That's the same rating the race earned last year on ESPN 2 when it was the swan song for CART.
Since the Versus cable channel isn't carried in as many U.S. households as ESPN2, viewership was down slightly from last year. This year, 388,864 households tuned in, compared to 485,604 in 2008. Still this year's Long Beach rating is a dramatic improvement over the .3 rating (233,000 households) the IRL earned for its debut on Versus April 5 at St. Petersburg. The TV rating for the St. Petersburg race was down 60 percent from the same race a year ago.
"We see progress," said IRL spokesman John Griffin. "We attribute the improved rating to three things; The NASCAR race was Saturday night, the attraction and history of the race at Long Beach, and people getting more focused on where to find Versus. At this point, we couldn't be happier."
IRL officials hope the momentum carries over to the series' race at Kansas City Sunday. The green flag drops at 4 p.m., and the series could get a boost from the return of fan favorite Sarah Fisher, who is set to run four races this year.
"Now we're going back to our roots with a one-and-a-half mile oval," Griffin said. "This is where our series excels."
After Kansas City, the IRL is off a week before heading to Indianapolis for three weekends of action, followed by weekends at Milwaukee and Texas.
"This is the result of our new, compact schedule," Griffin said. "We think the timing of these races will help us build fan following."
Please enable JavaScript to view this content.