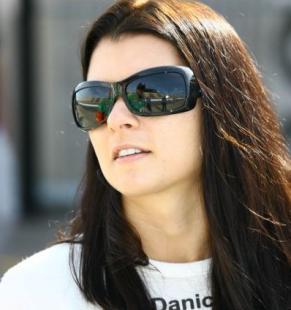 Indy Racing League driver Danica Patrick is ready for take off. Patrick will be unveiling her new Motorola sponsored Indy car at the Indianapolis International Airport May 1. The car will have a new look for the Indianapolis 500.
Patrick, who appears on the cover of the May issue of Shape magazine, is set to drive the car out of one of the airport hangars and give it a rip down one of the runways. The event is to kick-off the month of May at the Speedway. Naturally it's meant to be a big plug for her Andretti Green Racing team and sponsor Motorola, but there's another benefactor.
The Indianapolis Convention and Visitors Association has been clamoring to get the word out about the city's new $1.1 billion airport. "It's a critical asset we have here, and we want to communicate that to those in the tourism and convention business," said ICVA spokesman Bill Benner.
Motorola officials said the airport will be featured in the media event front and center. "Danica will be driving down the runway with the new terminal in the backdrop, along with airplanes taking off and landing," said Juli Burda, Motorola spokeswoman. "We think it is a fun way to kick off preparation for the Indianapolis 500."
That is good news for city and ICVA officials eager for a national spotlight.
"This is a prime opportunity to reinforce what a magnificent facility we have here," Benner said. "This is the best of all worlds for Indianapolis; the rollout of May, a hallmark month here, the IRL's most popular driver, and all at our new airport. That's bang, bang bang. All good news for us."
Please enable JavaScript to view this content.