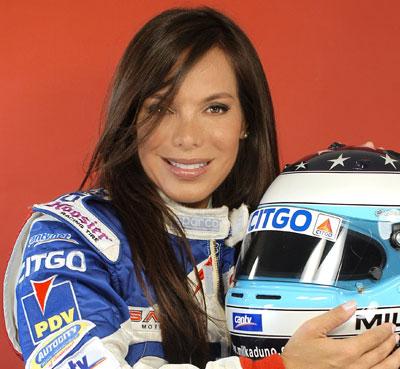 Dreyer  and  Reinbold Racing announced yesterday afternoon that Milka Duno will be returning to the team's Indy Racing League effort for 2009. The Venezuelan driver will be competing in a limited schedule starting at Kansas City this weekend. Duno is expected to try to qualify for the Indianapolis 500 next month.
"We had significant momentum last year and we want to pick up where we left off and continue to get results," said Dennis Reinbold, Dreyer and Reinbold Racing co-owner. "Also, we are very proud that Citgo is returning as a primary sponsor on the No. 23 car."
Duno had to scale back her season when Citgo scaled back its sponsorship this season.
Not only will Duno be partnering with driver Mike Conway, who will be piloting the No. 24 Dad's Root Beer machine, but she will also bring her oval experience to the table that will aid in Conway's learning curve as he visits Kansas for the first time, Reinbold said.
"I'm really happy to be racing and to be back at Kansas," Duno said. "This track is a very special place for me, because I made my debut in the [IRL] here. The fans are very supportive. I'm also very happy to be coming back to Dreyer and Reinbold Racing as they did a great job last year."
While Duno's on-track results have been spotty, she has been a solid fan and media attraction for the IRL. One of Duno's most publicized moments in the league was a very public squabble with Danica Patrick last year at Mid-Ohio.
Please enable JavaScript to view this content.