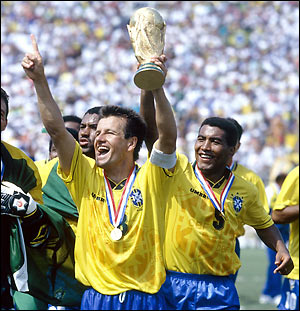 Indianapolis is in the running to host Word Cup soccer games in 2018 and 2022. It's a long, long way from a done deal, but two things are certain. First, Indianapolis wouldn't be in the conversation if it wasn't for Lucas Oil Stadium. Second, the economic impact of the World Cup is significant.
The 1994 World Cup hosted by the U.S. brought in a record 3.6 million fans from around the globe. The average per-game crowd was 69,000. The economic impact for the entire tournament is in the hundreds of millions. But there aren't many studies on what each round would net the host city.
Indianapolis—if it is fortunate enough to be chosen—would most likely host a preliminary pool play round, said Indiana Sports Corp. spokesman John Dedman. Preliminary pool play involves four teams playing over a week-long period. "Since it's played over a longer period, visitor spending at hotels and restaurants can be significant," Dedman said.
Most sports economists seem to agree that even a preliminary round of the World Cup could carry an economic impact near an NCAA men's Final Four. Studies show that direct visitor spending for a men's Final Four is between $45 million and $50 million.
But the spending of the international crowd at the former Formula One race at the Indianapolis Motor Speedway indicates the economic impact of World Cup play here could be significantly higher than a Final Four. Let's face it, these types of globetrotters are often the upper crust of the wine and cheese crowd.
Of course, there are no guarantees. The 2002 World Basketball Championships hosted by Indianapolis were a financial flop, and cost the Indiana Sports Corp. plenty. But the global following of soccer is far more fervant than basketball, despite what NBA Commissioner David Stern says.
These are important numbers to remember when considering the money state and city lawmakers are trying to raise to operate Lucas Oil Stadium. Remember, the most current operation figure to run LOS annually is about $27 million. The economic impact from events like this is the payoff. I'm sure there's no one rooting more for the local bid to come through than the beleagured Capital Improvement Board. It would be a nice victory to run up the flag pole the next time they need more funding.
But let's not get ahead of ourselves. First, Lucas Oil Stadium has to make the cut when the U.S. bid committee narrows the list to 20 or 30 stadiums for its final bid next year. Then the U.S. has to win the bid among the 10 other countries making a bid for the 2018 and 2022 World Cup. If the U.S. does win one of the two bids, then Lucas Oil Stadium has to be chosen as one of the 12 final sites.
Game on.
Please enable JavaScript to view this content.