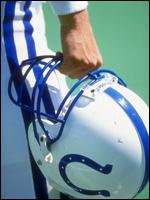 Since the Indianapolis Star this morning provided a rather incomplete picture of the Indianapolis Colts' draft grade, I thought I'd complete the picture.
It's true that USA Today's Larry Weisman gave the Colts a C-. But a panel of nine draft experts gave the Colts' draft selections a 2.67 grade point average. That's near a B-. NBC Sports' Gregg Rosenthal and Evan Silva gave the Colts an A-. Of the panelists, Sporting News' Clifton Brown gave the Colts the lowest grade, a D.
The Panelists also gave the AFC South rival Tennessee Titans a 2.67, while the two other AFC South teams, Houston and Jacksonville were given 3.11 and 3.04 respectively.
The Colts average score was ahead of every team in the AFC West, and far ahead of the Oakland Raiders, who the panel gave a league worst 0.59 grade point average.
To see the breakdown of the entire list and comments from NFL draft analysts on each team, click here.
Please enable JavaScript to view this content.